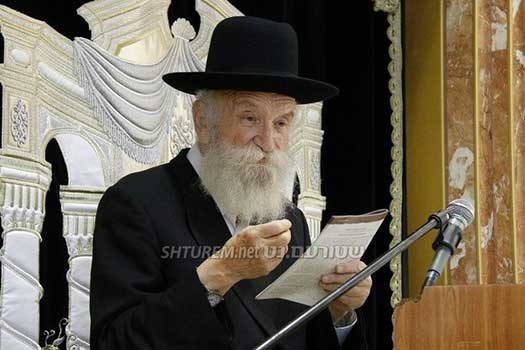 With great sadness we inform you of the passing of Rabbi Meir Tzvi Gruzman OBM, a resident of Kfar Chabad who was among the Roshei Yeshivos of Tomchei Temimim. He was 83 years old.
Born to his parents Rabbi Mordechai and Pelah Gruzman in the former Soviet Union, they immigrated to Israel when he was 14 years old and the family settled in Ramat Gan. As a young pupil he was enrolled in the Yeshiva Achai Temimim in Tel Avivm where he studied under the legendary Mashpiah Rabbi Shlomo Chaim Keselman, and when he transferred to the Chabad Yeshiva in Lod he followed.
As a student he was amoung the founders of the publication "Hatomim", and later even wrote and compiled the Sefer "Imrei Tzvi".
Rabbi Gruzman began his path in Tomchei Temimim as a Ra"M in Lod, during which he was married to his wife in Elul of 1955.
In 1960 the first 'charter' flight took place full of Chassidim in Israel who traveled to Crown Heights to spent time in proximity to the Rebbe – he was among those passengers.
In the past Rabbi Gruzman served as the Ra"M in the Yeshiva in Nachlas Har Chabad, and also as a Rosh Yeshiva in Tomchei Temimim Cholon.
In the last 20 years he served as one of the Roshei Yeshiva of the Centeral Tomchei Temimim in Kfar Chabad, where he worked up until very recently.
He is survived by his wife Chaya, and their children Rabbi Yosef Yisroel Gruzman, Rabbi Yitzchok Gruzman (Rishon Lezion, Israel), Rabbi Shmuel Gruzman (Tiberias, Israel), Rabbi Sholom Dovber Gruzman (Vienna, Austria), Rabbi Shneur Zalman (Tzfat, Israel), Rabbi Moshe Gruzman (Rishon Lezion, Israel), Mrs. Shoshana Zaiantz (S. Paulo, Brazil) and Mrs. Yaffa Raichman (Modiin, Israel).
The Levaya will leave from his home in Kfar Chabad at 5:30pm local time and head to the cemetery in Tzfat.
Boruch Dayan Hoemes