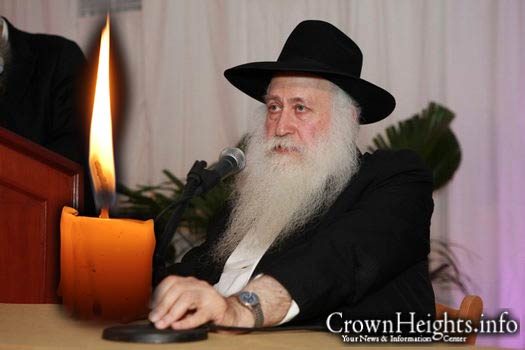 With sadness we inform you of the passing of Rabbi Elimelech Zwiebel OBM, the much beloved Mashpia in the Chabad Yeshiva in Morristown, New Jersey and one of the leading Chabad scholars. He was 75 years old.
Hailing from a family of Bobover Chassidim in Tel Aviv, Israel, Reb Meilach – as he was affectionately known – as a Bochur went to study in a Chabad Yeshiva in Lod, Israel under the tutelage of Reb Shlomo Chaim Kesselman.
He was among Chabad's most influential thinkers. He joined the staff of the Rabbinical College of America in Morristown, New Jersey some 50 years ago when the Yeshiva was still based in Newark.
In earlier years, Rabbi Zwiebel was one the Rebbe's Chozrim, which is a group of individuals who initially looked over the discourses of the Rebbe before they went for official editing to the Rebbe himself.
He is one of the major contributors to this generation's leading works on Chassidic philosophy.
he was a member of the Vaad Rabbonim Lubavitch and served on the editorial board for the production of the Chassidus Mevueres (Chassidus Explained) series.
He is survived by his wife Mrs. Libby (nee Blesofsky) Zweibel and children Moshe Zweibel (Crown Heights), Dina Gurary (Sydney, Australia), Yossi Zweibel (Crown Heights), Zeldy Oster (Los Angeles, CA), Chani Goldberg (Morristown, NJ), Avi Zweibel (Ashland, Oregon) and Mendy Zweibel (Chico, California) along with many grandchildren and great grandchildren.
He is also survived by his siblings Moishe Zweibel (London, England), Devorah Goldberg (Montreal, Canada), Zushe Zweibel (Jerusalem, Israel), Shoshana Plesser (Tel Aviv, Israel) and Sara Halperin (Netanaya, Israel).
The Levaya will take place Monday, 2:00 pm at Shomrei Hadas and passing by 770 at 3:00pm.
Boruch Dayan Hoemes