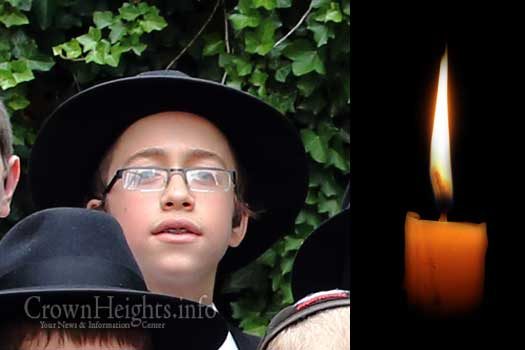 With great shock, sadness and pain we inform you of the sudden and untimely passing of Habochur Hatomim Avrohom Chaim Feldman, OBM, a young student in Oholei Torah. He was 13 years old.
Avrohom Chaim is the son of R' Mendel and Kaila Rivkah Feldman, and had just completed the 7th grade. He was set to begin the 8th grade this coming school year.
His father is well known for taking care of Empire Shteibel and its Mikvah with dedication.
Following in his father's footsteps, young Avraham Chaim spent lots of his free time helping to take care of the Ksav Sofer Shul nearby. He would also organize Minyahim for Tehillim in the Besht.
"He was a breath of fresh air" said Rabbi Levi Borenstein, his 7th grade teacher. "He had Yiras Shomayim and tremendous Kabbolas Ol. He knew Gemara by heart and was one of the 11 students who were tested by Rabbi Gurary of Chevra Shas at the end of the year."
"He was well liked by his fellow students, and knew how to have fun as well. He truly excelled in being diligent, and worked extra hard in his learning. He was an unbelievable talmid," said Rabbi Borenstein.
The Levaya will take place today, Thursday, at 2:00pm in front of 770, after which it will continue on to Old Montefire Cemetery in Queens for burial.
Boruch Dayan Hoemes