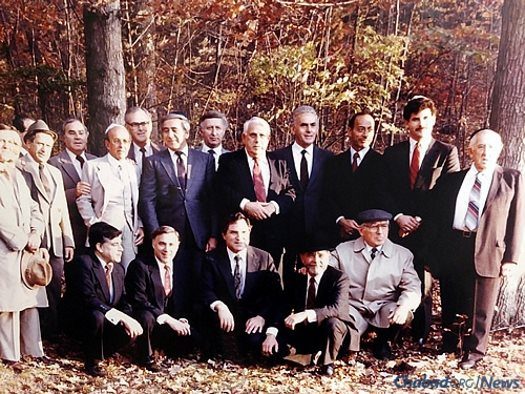 A group of board members gather in 1985 for the groundbreaking of 66 acres for the Rabbinical College of America's campus in Morristown, N.J. Joseph Wilf is standing, fourth from right.
by Faygie Levy Holt – Chabad.org
Joseph Wilf, a Holocaust survivor who created a building construction empire in the United States—and was known for his Jewish philanthropy and support of Israel—passed away on Aug. 3 at his home in Hillside, N.J. He was 91.
Wilf was born in 1925 in Jaroslaw, Poland. Along with his parents, Oscar and Ella, and his brother, Harry, Wilf survived the Holocaust living in a Siberian labor camp. His sister, Bella, died in the Warsaw ghetto.
After the war, Wilf met his future wife, Elizabeth ("Suzie"). The two married in 1949, immigrated to the United States shortly thereafter and had three sons, Sidney, Zygi and Mark.
In the 1950s, Joe and his brother Harry started the Garden Homes construction firm, which built housing complexes, shopping centers and more. It has become one of the largest real estate companies in the United States and Israel. Their commercial success led them to create, in 1964, the Wilf Family Foundation (there are now several different funds), which over the years has given away some $200 million.
Despite ample finances, "Joe Wilf lived a very simple life," according to RabbiMoshe Herson, director of Lubavitch of New Jersey and dean of the Rabbinical College of America in Morristown, N.J. Having known Wilf for 45 years, Herson said "he did so much in terms of building—not just physical structures, but building Jewish institutions and communities."
Among those institutions was the Rabbinical College of America, the New Jersey-based Chabad-Lubavitch center of higher learning for men studying for their rabbinical degree.
The Wilfs, both Joe and Harry, were not just philanthropic donors to the RCA, stressed Herson, but took an active role in the continued growth of the educational institution.
"They didn't just write a check," said Herson. Rather, they used their business acumen and life experiences "to guide us in the right direction and give us advice, whether it was on a building expansion or buying an additional piece of property for the school."
He added that they were dedicated to Israel and invested heavily in projects there. The brothers were involved with Israel, said Herson, "not for the sake of making money, but for the sake of investing in Israel's economy to help the country and create jobs."
'Wanted to Make a Difference'
The rabbi said the Wilfs "wanted to make a difference in the lives of the Jewish people, and create something they never had the chance to do in Europe. And they succeeded to a great extent. They used their success for the benefit of others, to do good."
Herson stated that "the passing of Joe Wilf is almost the end of an era that is unduplicated. The feeling that the Wilfs had for Yiddishkeit, for Jews and for Israel was very strong, just outstanding. Their legacy lives on because their children and grandchildren are fully following in his footsteps."
Zygi Wilf and Mark Wilf, who are real estate developers and the co-owners of the Minnesota Vikings football team, and their families continue their parents' charitable legacy by contributing to Jewish causes.
In addition to his wife and sons, Wilf is survived by his brother-in-law, Erwin Fisch (presently the acting chairman of the Rabbinical College Board); and his grandchildren and great-grandchildren. He was predeceased by his son, Sidney.