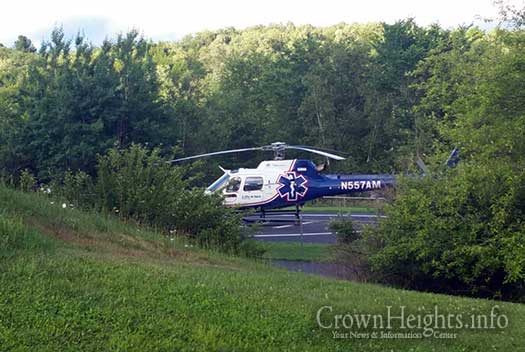 A 4-year-old child has tragically passed away early Monday morning after drowning in a pool in Upstate New York. The boy, Shimon ben Leah Malka Esther Weiss, OBM, and his family were guests in the KMS bungalow colony in Swan Lake, New York.
Sunday evening at around 6:45pm Hatzalah received a call for a 4-year-old that drowned in a pool in the KMS bungalow colony on Mount Hope Road in Swan Lake, NY.
Tirelessly, rescue personal worked diligently to resuscitate the child, ultimately succeeding and rushing the child to nearby Harris General Hospital. Once stabilized, he was taken from there to Westchester Medical Center for advanced pediatric care.
At around 6:30 on Monday morning, we received the tragic news that the child has passed away.
"They were the nicest family and he was such a cute kid" related another guest in the colony, "they would visit every year for a few weeks."
Following the drowning, calls for Tehillim spread on social media and in news stories about the accident.
Chesed Shel Emes is working with the local medical examiner in order to make sure the proper kavod hames is given.
The Levaya will take place today, 3:00pm, at the Chernobyl Bais Medrash in Boro Park, located on the corner of 12th Ave. and 41st St. The burial will take place at 5:30pm at the Bais Hachaim of Kiyas Yoel, NY.
Boruch Dayan Hoemes