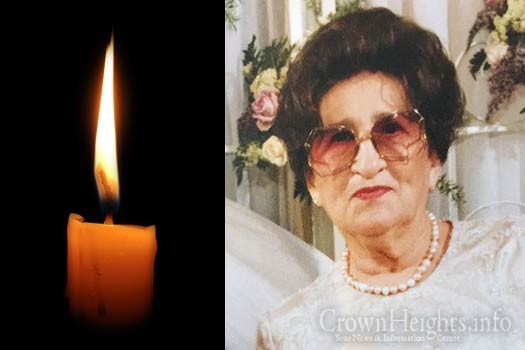 Boruch Dayan Hoemes: Mrs. Riva Minkowitz, 92, OBM
With sadness we inform you of the passing of Mrs. Riva Minkowitz OBM, a longtime resident of Crown Heights and renowned Machnis Orchim who was also involved in helping brides on their wedding day. She was 92 years old.
Hailing from the renowned Chein family, her father served as one of the Rebbes emissaries to Paris in order to raise funds for local mosdos including Beis Rivka.
She was well known for her involvement in the Mitvah of Hachnosas Kallah, helping brides get ready for their wedding days including teaching the Halachos in creating and keeping a proper home and dressing them for their wedding days.
She was also known for her open home and hosting many guests together with her husband Reb Yisroel Minkowitz OBM until his passing in 1998.
She is survived by her children, Meir Minkowitz (Crown Heights), Rebbetzin Chanie Lipskar (Bal Harbor, FL), Bassie Medalie (Johannesburg, South Africa), Itche Minkowitz (Belgium/Crown Heights) and Rebbetzin Shterna Shusterman (Beverly Hills, CA) as well as many grandchildren, great grandchildren and a great-great grandchild.
The Levaya will Monday 12:45pm at Shomrei Hadas at 12:45 and passing by 770 at around 1:30pm.

Boruch Dayan Hoemes