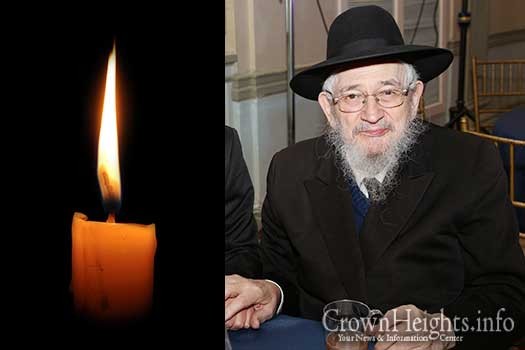 Boruch Dayan Hoemes: R' Bentzion Friedman, 84, OBM
With sadness we inform you of the passing shortly before Shabbos of Rabbi Bentzion Friedman, OBM, of Crown Heights, a beloved educator and Lamdan. He was 84 years old.
Born in Krenitz, Poland to Rabbi Meir Yisroel Isser HaKohen Friedman, the Krenitzer Rov, and his wife Feige, he was the youngest of three siblings.
After the World War II broke out, they fled Poland, and the family ended up in Soviet labor camps in Siberia. When the Soviets granted "amnesty" to many Polish citizens on 12 August, 1941, the family made their way to Tashkent, where they were welcomed into the Chabad community. There Benzion studied under the tutelage of Reb Yisroel Neveler.
In 1949, he emigrated to the United States together with his father and sister, Sara Horowitz. His brother, Yaakov Moshe, stayed behind in Prague, Czechoslovakia, where he heroically assisted thousands in fleeing Europe.
Once he arrived in the states, Bentzion began studying in Tomchei Temimim in 770, where he was a star pupil.
Later he married his wife Chana, whose father was Rabbi Dovid Mintzberg, Mashpia in the famed Yeshivas Chachmei Lublin.
After their wedding, they moved on Shlichus to Springfield, Massachusetts, where he took up a position as a teacher in the Lubavitcher Yeshiva of Springfield.
A number of years later they returned to New York, where he taught in Oholei Torah, and in various other Talmud Torahs. He also worked for Tzach (the Lubavitch Youth Organization), teaching public school children in a program called Shaarei Orah.
"He was a brilliant lamdan, a gifted storyteller and talented skilled melamed. He will be remembered for his cheery disposition and peaceful ways," related a family member.
He is survived by his children: Faige Rubashkin (Crown Heights), Dovid Friedman (Pittsburgh, PA) Suri Ciment (Crown Heights) Shaina New (Melbourne, Australia) and Yossi Friedman (Crown Heights).
He is predeceased by his wife Chana, who passed away in 2013.
The Levaya will take place tomorrow, Sunday, January 10. It will begin at 12:00pm at Shomrei Hadas Chapels, and pass by 770 at 1:00pm.
Boruch Dayan Hoemes