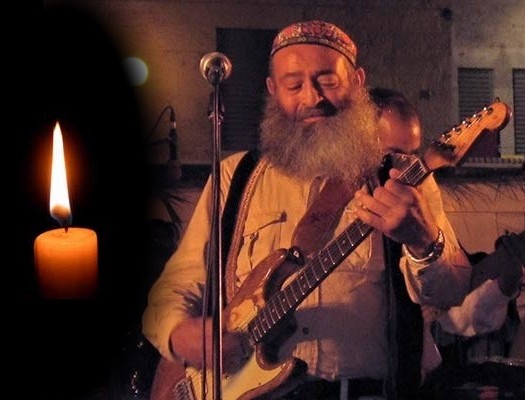 Boruch Dayan Hoemes: R' Yossi Piamenta, 64, OBM
With great sadness and pain we inform you of the untimely passing of R' Yossi Piamenta, OBM, a well-known and talented musician who merited to bring joy to hundreds of thousands of Jews with his music. He was 64 years old.
by Dovid Zaklikowski – Lubavitch Archives
Chasidic guitarist and musician, Yossi Piamenta, passed away today.
Referred to many as the Hasidic Hendrix, Yossi's music was a mix of Mizrahi, rock and blues. "In all the music I ever played, including the Hasidic music, I was a rock guitarist," he explained.
He enjoyed a long carreer, producing some 16 albums, but the last few decades he became a wedding musician, "Instead of becoming a cab driver, I chose weddings of Hasidim."
In the Israeli army he began to search for his roots. "I was lacking something and I didn't know what I was looking for, until I understood that I was on a search for Divinity. One day I arrived at the awareness that the world has a Creator."
To Piamenta the important thing was his studies: "I don't know how to turn on a computer. I don't have the head for that. Just let me play the guitar. In my free time I read Torah and Psalms; every year I learn a new interpretation of the Torah. That is what is really important," he said.
He concluded: "I make no separation between what I play and what I express in words. Everything returns to the same center: I am a Jew who grew up in Jerusalem and lives in Tel Aviv, who has been playing music all his life and uttering words that express what my soul feels."
He would tell people that he still is on the journey of return to his Jewish roots. "I hope that on my last day I will be able to say that I have become penitent," he said in a 2005 interview. "To become penitent is a day-to-day process, whether you are religious or secular. What do you think, that religious people themselves don't become penitent – that they have no sins and transgressions?"
R' Yossi passed away earlier today, Sunday, after succumbing to a devastating illness that he has been battling for years.
His successful career as a guitarist – often teaming up with his brother Avi from Kfar Chabad, who plays the flute – brought him fame and admiration throughout the Jewish world; he was often referred to as 'the Jewish Hendrix' due to his unique talent.
The Levaya will take place today, Sunday 7:30pm at Shomrei Hachomos, then passing by the Shul he frequented in Flatbush, then passing by 770 at around 9:30pm. The Kevurah will take place Monday in Israel.
Boruch Dayan Hoemes