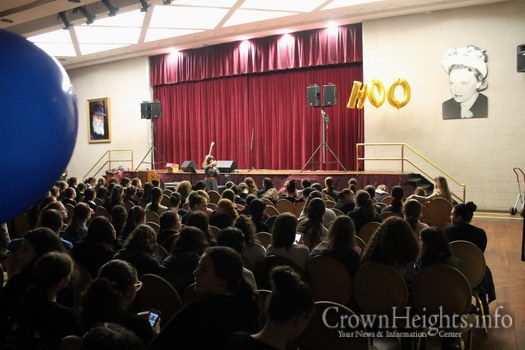 Bais Rivkah High Schools "Helping Our Own" Program
191 Families. Thats how many families will have volunteers from Bais Rivkah High School this year, under the umbrella organization HOO-Helping our own. Over 400 girls will be visiting families once a week to give Moms a helping hand with their little ones. HOO will also be partnering with the Kimpeturin Project and Bikur Cholim. The purpose of the organization is to inculcate in the girls the idea that "A Chossid is a giver," and for the girls to have a hands-on opportunity to practice what they are taught. Many volunteers make lifelong connections with the families, and become like "big sisters" to the children they are visiting.
The volunteer kick off event featured Mrs Gitty Rosenfeld, who spoke about the importance of caring for others and forming a community. She gave the girls a sense of empowerment that they could make a difference in the lives of the families they go to.
Following Mrs Rosenfeld was a heartfelt Kumzitz with Esther Freeman, who sang her own personal songs and niggunim, continuing the theme of Chessed and helping mothers in the community.
The girls walked away with practical ideas to do while playing with the children in the homes that they visit, as well as uplifted and inspired to be able to Help Our Own.
We thank Rabbi Benjy Stock for initiating and coordinating this project. We also thank Mrs Shiffy Goldstein and Mrs Sara Blau, as well as the 12th grade HOO heads.