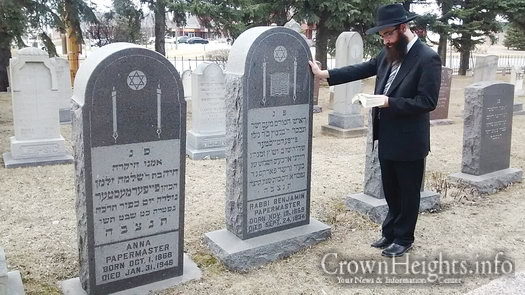 Rabbi Sholom Ber Orenstein recites Psalms at the resting place of his great-great-grandfather.
Chabad Rabbi Returns to Roots in North Dakota
A Chabad rabbi from Crown Heights, whose great-great grandfather served as spiritual leader of the the Jewish community of North Dakota for 53 years, returned to the state to conduct a Pesach Seder this year.
In 1890, Rabbi Benjamin Papermaster arrived in North Dakota, some 7,000 miles from his home and family, with only a Torah scroll and a few sparse belongings in his possession. He became the first rabbi to the Dakotas.
There, he found a group of 15 Jewish settlers and their families who were tenaciously trying to settle the windswept prairie. The local Jews, however, were uninterested in the Eastern European rabbi and more concerned with farming the often harsh environment, in addition to assimilating into their newfound American culture.
Despite the pleas of family in New York to abandon North Dakota, the rabbi felt that he was tasked with a holy mission to serve the community. He would remain there for the rest of his life. Until his passing on Sept. 24, 1934, Papermaster traveled to outlying Jewish communities in the state's various small settlements, officiating at weddings, circumcisions and funerals.
Four generations later, his great-great-grandson, 22-year-old Rabbi Sholom Ber Orenstein, is in North Dakota to assist Rabbi Yonah Grossman—who with his wife, Esti, co-directs the Chabad Jewish Center of North Dakota in Fargo—and bring Passover to his forbearer's state. Orenstein will hold a seder on April 10, the first night of Passover, in the city of Grand Forks, while the Grossmans will hold seders in Fargo, about 80 miles to the south.
The local Jewish community also plans to rededicate the listing of the Ashley Jewish Homesteaders Cemetery on the National Register of Historic Places. (Plaques are not issued as a result of listings; that is left to property owners or the community.)
The cemetery is the only permanent physical reminder of the McIntosh County Jewish farming community—the largest Jewish agricultural settlement in North Dakota. The homesteaders were made up of Russian and Romanian immigrants escaping persecution from their native lands, including the Russian prohibition against Jews owning land for farming. North Dakota had the fourth-largest number of Jewish homesteaders in the United States.
The cemetery was opened and dedicated by Papermaster. It was originally listed on the National Register of Historic Places in November 2015.