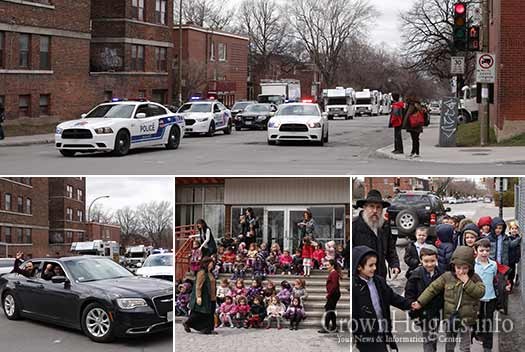 Four Mitzvah Tanks paraded through the streets of Montreal last week in honor of the Rebbe's 114th birthday. A team effort of locals, Bochurim and Anash together created the first Yud Alef Nissan Tank Parade in Montreal.
Four Mitzvah Tanks paraded through the streets of Montreal this past Tuesday, in honor of Yud Alef Nissan, marking the Rebbe's 114th birthday.
The first parade to take place this year celebrating the occasion, it was organized by Mitzvah Tanks Montreal which is under CLYO and led by Rabbi Mendy Wilansky and Hatomim Yisroel Cohen.
Being a Hakhel year, the organisers arranged that students from both schools – the Yeshiva and Beis Rivkah – would have a chance to go on a Mitzvah Tank and see hands on what is done during Mivtzoim.
The Yeshiva boys had a special project to do in honor of Yud Alef Nissan, aside from Mishnayos Bal Peh, there was a raffle for each class and the winner was then able to go for a ride on the parade in a limousine.
Members of the Jewish community in Montreal helped sponsor it, in an effort to inspire as many Jews as possible to do a Mitzvah and attend a Pesach Seder.
The 'tanks' were filled with dozens of Bochurim who were armed with Matzos, Tefillin, and Shabbos candles set out upon the city and gave them out to hundreds of unaffiliated Jews.
Saluting the parade, aside from all the people who stared in wonder, were the children from Tomchei Temimim, and Beis Rivkah who came out to salute the parade and the Tankistim.
A thank you is given to the Tankistim Rabbi Yitzchok Lebovics, Rabbi Mendel Zilberstein, Rabbi Shlomo Lison, Rabbi Nuty Rivkin, and a very special thank you to Chabad activist Rabbi Dovid Cohen who helped secure the necessary permits from the city and the Montreal police department.