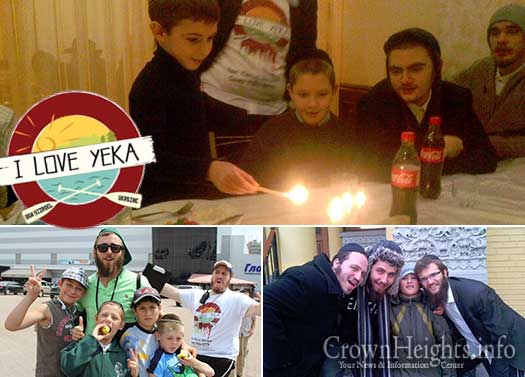 8 Chanukah Parties in 8 Cities in War Torn Ukraine
Four young Bochurim who worked as counselors in Camp Yeka are planning a Chanukah return trip to help raise the spirits, and bring light to war torn Ukraine. Their plan is to raise enough money to travel back, make 5 Bar Mitzvah's and 8 Chanukah parties in 8 different cities.
Four young Bochurim who worked as summer camp counselors in Camp Yeka, will return this winter to visit the boys whose lives they touched over the time they spent together in camp.
This is the second winter trip organized by the counselors of Camp Yeka but this time, it means a little something more. Ukraine is in the midst of a brutal war and the counselors hope that this trip will bring some joy and relief to their campers.
Their itinerary will include visiting over 200 boys at their homes and community centers, and as the trip is timed to coincide with Chanukah, they will also be making Chanukah parties and other holiday events.
Perhaps most importantly, they will be arranging Bar Mitzvah celebrations for five of their campers including 12 year old Eli Arteminko who in a video message to his counselors (see below) talks about how excited he is to celebrate his Bar Mitzvah.
The counselors are fundraising for their trip, through a GoFundMe campaign that has already raised more than half of the $10,000 goal in just under 3 days.
Counselor Yakov Shmuel Golomb is one of the four who will be making the trip and when asked what he hopes to accomplish he said "It's been 3 months since the summer camp, and even though we have kept in touch with them all, they are still thirsty for more attention and love. Chanuka gives us the opportunity to combine the holiday fun and winter vacation into an inspirational visit"
The campaign is being promoted on Twitter and Facebook with the hashtag #10ForUkraine and has gone viral in the communities where much of the fundraising is being done. The campaign has been shared on the social media pages of various celebrities, including famous Yeka Alumni from popular folk band Rogers Park and singing sensation Moishe Hecht.
The reaction has been incredible, says Chaim Liter, the director of the fundraising effort. "We've had such a great response to the campaign; I've been receiving messages from people all over the world who want to help bring some light to our boys in Ukraine".