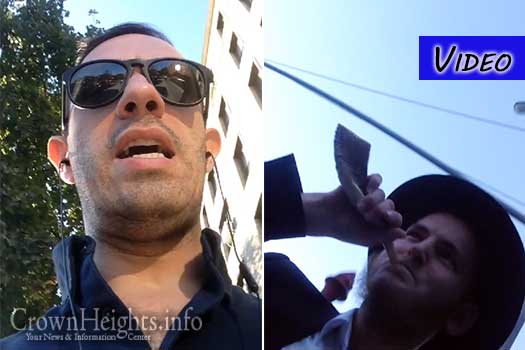 "Are you Jewish by any chance? Do you want to hear the Shofar?" New York based filmmaker Joshua Wolff laments that he could not walk around this time of year without 'being accosted' with those questions. He did not want to stop and hear Shofar, so what did a Lubavitcher Bochur do? It was all captured in an amazing clip!
The video was presumably taken on Rosh Hashanah somewhere in Brooklyn by New York based filmmaker Joshua Wolff. He was out for a jog when he happened upon a group of Bochurim out on Mivtzoim and blowing Shofar for people on the street.
Wolff writes on the video that "it is impossible to walk the streets of New York this time of year, looking like I do, without being accosted."
Uninterested in hearing the Shofar, Wolff asks the unidentified Bochur if he would like to run with him, and is later amazed at the Bochur's ability to keep up and complete all the required Tekios.
The encounter ends with both Wolff and the Bochur wishing each other "Shana Tova."