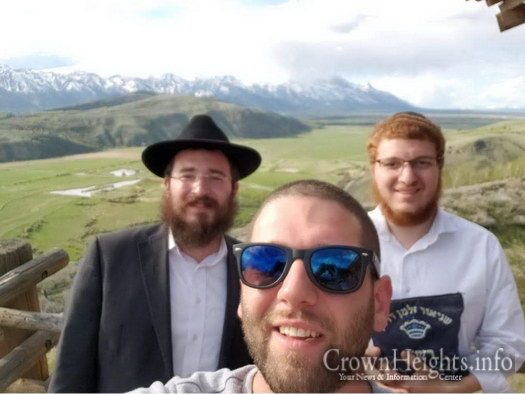 Shavuos Shlichus to "Smalltown, USA"
Mobile, Alabama. Boise, Idaho. Spokane, Washington. Not quite your typical vacation destinations! But this week, 128 rabbinical students will be flying out to "Small Town, USA" for Shavuos, to bolster the yom tov joy and spirit for the shluchim and their families living there.
For the shluchim living in these outposts, this Shavuos will be a three-day marathon of leading prayers, sharing inspiration and hosting guests on top of the usual hours upon hours of YomTov planning and preparation.
But this Shavuos they'll have extra pairs of enthusiastic and helping hands. As a project of Ufaratzta Circle, 128 bochurim are heading out to more than 50 small towns across North America, bringing with them inspiring Torah thoughts, electrifying chayus, exciting children's program for the community, pekelach for the tzeirei hashluchim, and 3,240 cheese blintzes.
Since 2014, Ufaratzta Circle has been a lifeline of support for shluchim and their families living off the Jewish beaten track. Their children have no frum friends to play with, the mikvah is hours away (by car, or in some cases, by plane), and "meal planning" means ordering 6-months worth of meat and dairy in advance! As the "only show in town," shluchim and shluchos must provide every Jewish resource their community needs, while raising and schooling their own yiddishe kinderlach — chayolim and chayolos of the Rebbe — at home.
A few years ago, a businessman from New York City found himself spending shabbos by the one such family, Rabbi Yossi and Chani Jacobson in Des Moines, Iowa and was very moved by their love and dedication to the community. As someone who traveled often, he frequently benefited from the hospitality of local shluchim, and he decided he wanted to find a way to repay their kindness. On the advice of his local shluchim, Rabbi Zalman & Chanie Wolowik, he approached Merkos  Suite 302 and the Shavuos Visitation initiative was launched. In the first year, 30 shluchim welcomed bochurim to their communities for Shavuos. This year, 51 communities will be uplifted by these unique visits.
"We work so hard to get a minyan for each yom tov, but one year we didn't have a single kohen the entire Pesach. My son was devastated because he couldn't finish his Tzivos Hashem Yom Tov mission without hearing birkas kohanim. He was sobbing and telling me that it wasn't his fault." a shlucha wrote to us. " That Shavuos, Ufaratzta Circle sent us bochurim to help make our minyan, including a Kohen. We watched with such nachas as our son proudly and joyfully stood under his father's tallis on both days of Yom Tov for Birkas Kohanim."
"Shluchim forego the luxuries that we have in a frum community; not just pizza shops but the schools, farbrengens, events, family gatherings, and all the support we take for granted."
said Rabbi Mendy Kotlarsky, executive director of Merkos Suite 302. "Ufaratzta Circle was created to be a community for Shluchim living in the most geographically remote locations."
This Shavuos, for 51 shluchim, that will be a reality.