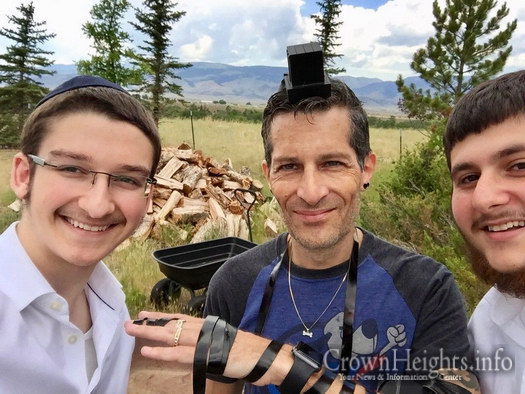 Daniel Spangler of Pray, center, wearing tefillin, poses for a photo with rabbinical students Leibel Kaplan, left, and JJ Polter.
by Susan Olp – Billings Gazette
Who knows when someone might need a spiritual lift? Rabbinical students Leibel Kaplan, 19, and JJ Polter, 20, found themselves in a check-out line at the Great Falls Walmart the other day when a man in line with them spoke up.
"He said 'shalom, how are you? You're Jewish!' " Kaplan said in an interview on Friday. "And he's like, 'I've been dying to see a rabbi for the past seven years.'"
That the two, garbed in dress shirts and suit coats, with yarmulkes (or skull caps) on their heads, were easy to spot in the central Montana town. The pair spent time with the man, helping him connect with God.
Kaplan called that meeting and the others like it since the two arrived in Montana on June 29 "divine providence." It's made their first visit to Montana memorable.
"There's no words to describe it, to bring light to these Jews and to inspire and help them out," he said.
Kaplan, who lives in Toronto, and Polter, from just outside Detroit, are both in training to be rabbis. Kaplan will spend a year in Brazil and Polter his second in Los Angeles toward that goal.
But this summer, the two men joined more than 350 other rabbinical students traveling in the United States and in 100 other countries, encouraging other Jews in their faith. Both are members of Chabad-Lubavitch, a branch of Orthodox Judaism that has its headquarters in Brooklyn, New York.
A tenet of the movement, which has its roots in 1700 Lithuania, is to care for the spiritual and material needs of Jews everywhere. This year marks the 50th anniversary of the community outreach program founded by Rabbi Menachem M. Schneerson, revered leader of the group.
Kaplan and Polter arrived in Bozeman in June at the invitation of Rabbi Chaim Bruk, who opened a permanent Chabad-Lubavitch Center in Bozeman in 2007.
"He is the statewide rabbi for Chabad," Kaplan said. "He helps them however he can."
Many of the names of people Kaplan and Polter have met with were provided by Bruk. Other meetings, like the one with the man in Great Falls, were what Kaplan might call perfect timing.
The two students have driven probably close to 1,000 miles in the past two weeks, Polter said, traveling "literally just all over," from Conrad to Sidney to Miles City to Billings and many towns in between.
A major focus during the visits involves Polter and Kaplan encouraging the others to pray using tefillin (small leather boxes with part of the Torah inside) strapped to their left arm and their head, Kaplan said.
"The way I like to put this is the tefillin is the original high-speed download," he said, adding its use goes back to early Jewish history. "It connects us straight to God."
Every Jewish boy starts putting on tefillin at age 13, when he is bar mitzvahed, when he becomes a man in the faith and is responsible for his deeds, Polter said.
"We put it on every day for the morning prayer," he explained.
Sharing this teaching with those they've met in Montana "ignites a spark in them," Polter said.
The pair will leave Montana on Thursday and go their separate ways. But they will take the inspiration they gained in sharing their faith with others.
"It's been very enlightening, very eye-opening and uplifting," he said. "Especially going all over Montana has been a very cool ride. I look forward to doing it again."