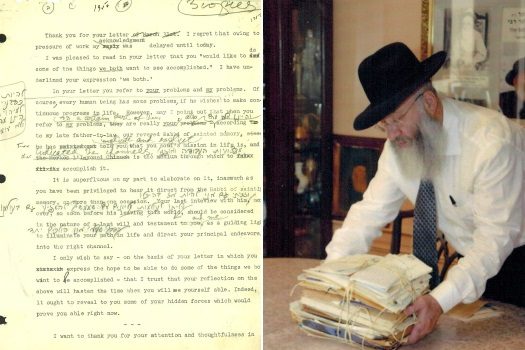 Weekly Letter: The Previous Rebbe's Last Yechidus
This week, in honor of Yud Shvat, Rabbi Sholom Ber Shapiro of Nissan Mindel Publications shares with our readers a copy of an original, unique letter from the Rebbe, with his handwritten notations, written right after the histalkus of the Previous Rebbe on Yud Shvat, 1950, to one of the Rayatz's well-known supporters.
As the fascinating notations indicate, the Rebbe is referring to the last yechidus which this supporter merited to have with the Frierdiker Rebbe, during which the Rebbe merited to be present as well, a yechidus which the Rebbe writes should be seen as a "last will and testament" for both of them – both the supporter and the Rebbe – a yechidus which took place a short time before the Frierdiker Rebbe's "going up to the higher worlds, even though he continues to influence also in this, our world."
The letter continues with numerous shared goals as well as guidelines for the supporter.
In addition, Rabbi Shapiro presents our readers with handwritten notes of the Rebbe about 1. a trip to be taken, 2. Parnassa, and 3. the resting places of tzaddikim, and specifically the resting place of Frierdiker Rebbe, and their great accomplishments.
These rare documents are from the archives of Rabbi Nissan Mindel, with which his son-in-law Rabbi Shalom Ber Schapiro has been entrusted to preserve and promote, and which Rabbi Schapiro shares for the benefit of the public.
[pdf-embedder url="https://crownheights.info/assets/2017/02/20170131093537.pdf"]
[pdf-embedder url="https://crownheights.info/assets/2017/02/20170131093358.pdf"]