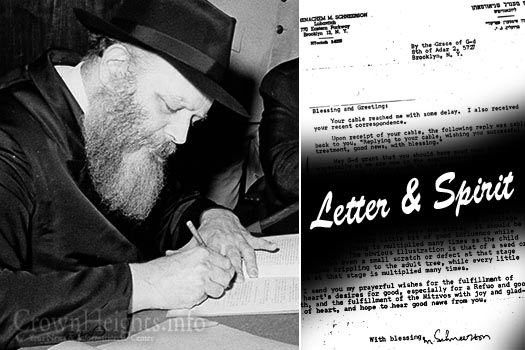 In this week's edition of Letter and Spirit, as we approach Rosh Hashanah – the day of judgment, we present a letter from the Rebbe to a judge, in which the Rebbe touches upon the idea of true justice. The letter was written in English through the Rebbe's trusted secretary Rabbi Nissan Mindel, and was made available by the latter's son-in-law, Rabbi Sholom Ber Shapiro.
This weekly feature is made possible by a collaboration between CrownHeights.info and Nissan Mindel Publications. Once a week we publish a unique letter of the Rebbe that was written originally in the English language, as dictated by the Rebbe to Rabbi Mindel.
**********
                                                                                                                            By the Grace of G- d           /
13tb of Tishrei, 5736
Brooklyn, N. Y.
The Honorable
Brooklyn, N.Y.
Greeting and Blessing:
This is to acknowledge receipt of your letter.
It will be a pleasure to meet with you at a mutually convenient time.  But because of a long standing tradition that no appointments are made during the month of Tishrei and the early part of Cheshvan, you will surely understand and not mind the unavoidable delay.
May I avail myself of the opportunity to make a remark apropos to the eminent position which the Hashgocho Protis has given you.
As you surely know, the Torah frequently emphasizes that the essential aspect of a judge is to judge dan din l'amitto (absolutely true justice). The Commentaries explain that  l'amitto  means not only true justice based on what the judge hears in a case before him, but also on what is under the surface of the spoken words, which provide insight into the inner and deeper  aspects of the problem at hand – the thoughts, motivations, feelings.
The above is particularly true in the case of the Family Court, and I wish you much hatzlacha in your highly responsible position, as well as in your personal affairs.
With esteem and best wishes for Chag Sameach
,
Cordially,
**********
The above letter is from volume II of The Letter and the Spirit by Nissan Mindel Publications. The letters are from the archives of Rabbi Dr. Nissan Mindel, a personal secretary to the Previous Rebbe and The Rebbe, whose responsibilities included the Rebbe's correspondence in English.
We thank Rabbi Sholom Ber Shapiro, director of Nissan Mindel Publications and the one entrusted by Rabbi Mindel, his father-in-law, with his archives, for making these letters available to the wider public. May the merit of the many stand him in good stead.