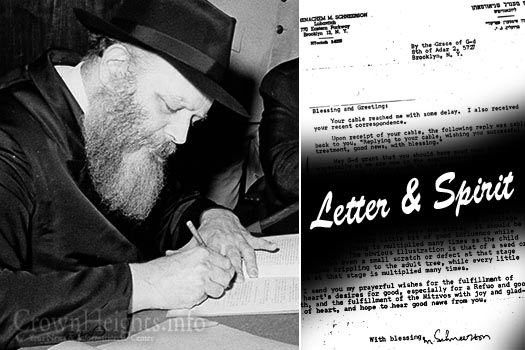 In this week's edition of Letter & Spirit, we present a letter of the Rebbe in regards to the success of Shidduchim. The letter was written through the Rebbe's trusted secretary Rabbi Nissan Mindel, and was made available by his son-in-law Rabbi Sholom Ber Shapiro.
In the letter, written in 5730 (1969), the Rebbe lays down some basic principles in order for a Shidduch to succeed.
This weekly feature is made possible by a collaboration between CrownHeights.info and Nissan Mindel Publications. Once a week we publish a unique letter of the Rebbe that was written originally in the English language, as dictated by the Rebbe to Rabbi Mindel.
*********
By the Grace of G-d
Rosh Chodesh Shvat, 5730
Brooklyn, N.Y.
Miss
Philadelphia, Pa. 19141
Blessing and Greeting:
Your letter reached me with some delay and my reply was also unavoidably delayed.
You write about your background and also in the matter of a shidduch; that you met a boy about whom you have some reservations in regard to his attitude and commitment to Yiddishkeit and you seek my advice.
First of all, I want to say that I am gratified to note in your letter that you are determined to advance and to go from strength to strength in your commitment to and practice of Yiddishkeit. With such resolve you can be sure of hatzlacha, for our Sages have assured us that "He who is determined to purify himself receives help from On High."
As for the question of a shidduch, my viewpoint is well known, namely – to separate the matter of chinuch from that of a shidduch. In other words, while one must try to influence other people and bring them closer to Yiddishkeit, this should not be a consideration in the matter of a shidduch. Particularly in your case, where you yourself have yet to strengthen your adherence to the Jewish way and continue your steady advancement, it is important that you find a partner in life who is already firmly rooted in the Torah, Toras Chaim, and the mitzvos whereby Jews live. It would be rather risky to think that while trying to advance yourself you will be able to help another person to similarly advance in the right direction, especially after that person has at one time learned in a yeshivah and was fully committed, but for various reasons had turned away completely and then made a partial return, with some reservation. One may, and should, have every confidence that that person will come back completely, but it would be folly to add confusion to confusion and, in any case, this is not the purpose of a shidduch.
May G-d, Whose benevolent Providence extend to each and everyone individually, lead you in the way that is truly good for you, especially in regard to the serious aspects of life. The zechus of your resolve to strengthen your commitment to Yiddishkeit, particularly in a practical way in the day to day life, since the important thing is the deed, will surely stand you in good stead.
With blessing,
**********
The above letter is from the archives of Rabbi Dr. Nissan Mindel, a personal secretary to the Previous Rebbe and The Rebbe, whose responsibilities included the Rebbe's correspondence in English.
Many of the letters are now being published in The Letter and the Sprit, a series of volumes by Nissan Mindel Publications.
We thank Rabbi Sholom Ber Shapiro, director of Nissan Mindel Publications and the one entrusted by Rabbi Mindel, his father-in-law, with his archives, for making these letters available to the wider public. May the merit of the many stand him in good stead.