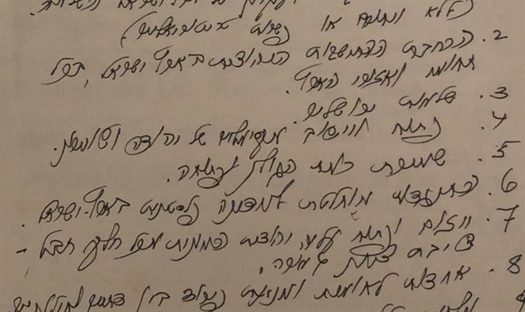 israelnationalnews and CrownHeights.info
The granddaughter of former Israeli Prime Minister Yitzhak Shamir, Michal Diament, on Sunday morning tweeted a handwritten list her grandfather had written, in which he laid out what he called his "guiding principles."
"This week we will mark 8 years since the passing of my grandfather, the seventh PM of Israel, Yitzhak Shamir," Diament wrote.
"My grandfather was a man of writing. He always had small notepads nearby in which he would write reminders, thoughts, etc. Among those was also this page, in which he sketched out the principles in which he believed and upon which he acted.
Some of the principles appear to follow a similar outlook to those of the Lubavitcher Rebbe, with whom Shamir visited and corresponded.
"1. Devotion to the principle of the Complete Land of Israel (without concessions or territorial compromise).
2. Expanding Jewish settlement in the Land of Israel, in all borders and areas of the land.
3. The completeness of Jerusalem.
4. Maximum development and settlement of Judea and Samaria.
5. Protecting the Golan Heights and developing it.
6. Decisive opposition to a Palestinian state in the Land of Israel.
7. Spearheading and developing mass Jewish immigration from all parts of the world – a complete Return to Zion.
8. National unity and preventing separation between the Religious and Secular.
9. Unqualified war against the Oslo Accords until their complete cancellation."