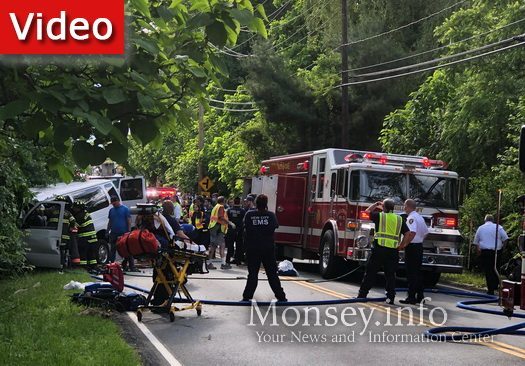 by Monsey.info
A serious accident in New Hempstead near New Square had emergency crews scrambling his afternoon with seven people trapped in a van.
The accident took place around 4:45pm near 475 New Hempstead Rd in New Hempstead.
Police responding to the scene and found a fifteen passenger van that had left the roadway and crashing front first into a tree. Seven people were reported trapped inside the van. The Fire Department was called to extricate the stuck passengers.
Hatzoloh and Spring Hill EMS responded as well, reporting ten patients in total from the crash, with three of them unconscious.
At lease one helicopter was called to remove a patient to a hospital.
UPDATE: Two people have since died from the accident. Reb Aaron Shmuel Deutsch A"H, and his son in law Reb Shlomo Birenhack A"H. Others are in serious condition and need Rachamei shamayim. Please Daven for Devorah Yehudis Bas Esther and Esther Bas Rivka.