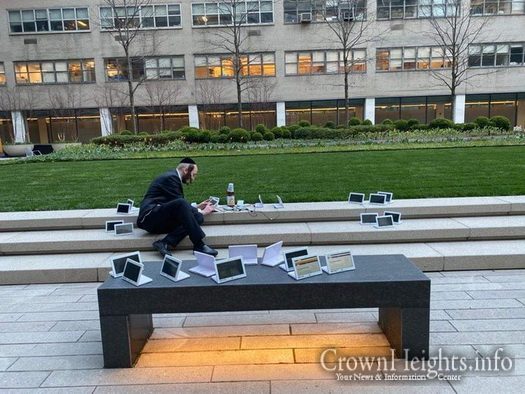 Chassidim Innovate To Help Communicate With Hospitalized Family Members
by CrownHeights.info
Its a horrible conundrum. Hospitals are the worst place to be at this time, and to go there is to be in near complete isolation. Yet these days, there may be little choice but to go simply to save a life.
For families of the  hundreds of elderly (and not so elderly), Jewish patients hospitalized throughout New York State, the biggest issue was the near complete inability to communicate and advocate for those they love.
A group of Chassidic men took the task on, spending hours programming and delivering tablets to hospitalized coronavirus patients in the New York City area, and allowing them to stay connected to their families.
The grassroots effort began as a joint effort involving approximately 1,000 specialized social media tablets that were bought by a Chasidic man about a year ago.
A team of volunteers began working on the complicated process to connect to the various WIFI systems at Weill Cornell Medical System, Columbia University Medical Center, NYU Hospital, Memorial Sloan Kettering Cancer Center, Lenox Hill Hospital and Mount Sinai Hospital.
In the end, their hard work payed off, allowing families to be there virtually with those they love.