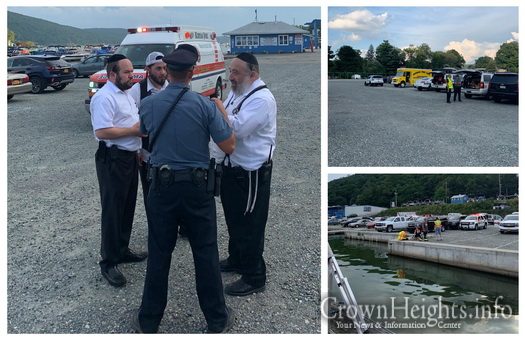 BDE: Monsey Man Missing While Boating, Body Found (Updated 11:40AM)
A Frum Monsey father of 7, Reb Dovid Traube, was reported reported missing while boating on Greenwood Lake, which straddles the New York and New Jersey Border.
Rabbi Traube had jumped into the lake to save his son who had gone overboard, according to YeshivaWorldNews. The son was reported to have been removed from the water, while the father has yet to be found.
Hatzolah from various areas, as well as Rockland Chaverim, NY State Police, NJ State Police, Us. Coast Guard and other local fire departments have all joined the search.
Please say Tehillim for Dovid Zalman ben Bina
Updated 7:30pm: Reports that the search will soon be put on hold due to the severe weather.
Update 10:00am: Police resumed the search at around 9:15am. Private rescue services are now also rejoining the search, including Rockland Chaverim and Hatzalah.
Update: 10:05am: KJ Hatzolah and the local Public Safety are running the Search. Other emergency services involved include Greenwood Lake Fire Dept, NYSP, Chaveirm of Rocklandand COMSAR. Police are requesting that no one come to the scene, as it will only create chaos.
Update 11:40am: BDE, The body of Reb Dovid Traube, a father of 7, was found by State Police Divers.