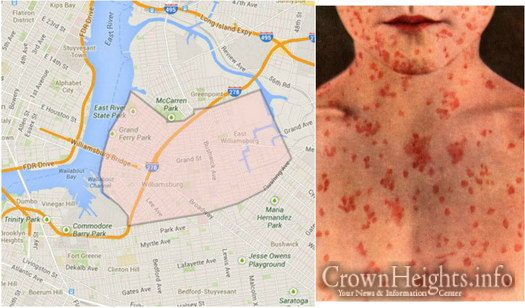 Following an exciting holiday season with lots of traveling around the world, a virus has made its way back into the United States, and into the frum community in particular. Six cases of the measles have been reported in Williamsburg, hospitalizing at least one, and 11 cases have been confirmed in Rockland County.
Measles is an easily transmitted virus that used to be prevalent in the United States. In the decade before 1963 when a vaccine became available, nearly all children got measles by the time they were 15 years of age. It is estimated 3 to 4 million people in the United States were infected each year. Also each year, among reported cases, an estimated 400 to 500 people died, 48,000 were hospitalized, and 1,000 suffered encephalitis (swelling of the brain) from measles.
The first vaccine for measles was formulated in 1963, and a better version was released in 1968. Measles was declared eliminated (absence of continuous disease transmission for greater than 12 months) from the United States in 2000. This was thanks to a highly effective vaccination program in the United States, as well as better measles control in the Americas region.
Recent spikes of the virus in the United States have been attributed to unvaccinated, or non immune travelers who have brought back the virus with them. They then spread to others who are either unvaccinated, or have only received their first vaccination, and are therefore more likely to contract it.
As per the CDC website, two doses of measles vaccine are about 97% effective at preventing measles, while one dose is about 93% effective.