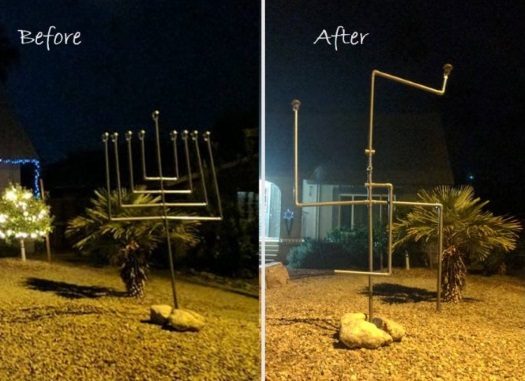 Unique Sentence for Teens Who Vandalized Menorah
Three teens pleaded guilty to criminal damaging charges for twisting a large decorative menorah in the front yard of an Arizona family's home into a swastika. In addition to community service and a letter of apology, they will be required to meet with a holocaust survivor, the judge ruled.
From The JTA:
The teens, who were arrested in March and charged as juveniles in the December incident in a residential neighborhood in Chandler, Arizona, offered the guilty pleas Thursday in Maricopa County Court.
They were sentenced to serve 30 hours of community service, along with writing an apology letter to the victims and paying restitution. They also must meet with a Holocaust survivor and write an essay on what they learned about the Holocaust and how their desecration of the menorah affected the community, the CBS affiliate in Phoenix reported.