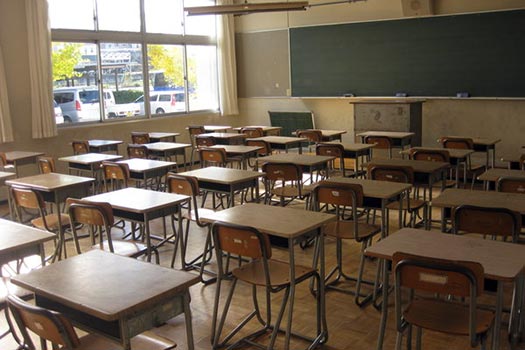 Illustration photo
from VIN News by Sandy Eller:
One of three Orthodox Jewish girls' schools in London that failed government inspections for refusing to teach respect and tolerance for the LGBT community is facing possible closure by the Department of Education.
The Vishnitz Girls School in Hackney did not meet the required criteria in its third consecutive inspection by the Office for Standards in Education, Children's Services and Schools, also known as Ofsted, because the school's curriculum does not include material on alternative lifestyles as required by the 2010 Equality Act.
According to the Ofsted report issued on May 10th, school officials were not able to demonstrate that it taught tolerance for those who have "protected characteristics."
"This restricts pupils' spiritual, moral, social and cultural development and does not promote equality of opportunity in ways that take account of differing lifestyles."
The school teaches girls ages three to eleven and has 212 students.
The Equality Act was created to protect United Kingdom citizens from discrimination and requires all schools to teach "fundamental British values" including different sexual orientations and transgender lifestyles. While religious schools are allowed to teach the relevant subject matter subject according to the tenets of their faith, the material cannot be presented in a discriminatory way.
Officials at the Vishnitz Girls School acknowledged their failure to cooperate with the Equality Act in October, indicating that they could not meet the government standards. While the school has shown improvement in multiple areas including safety, staffing, accommodations and education, the Ofsted report still found the school to be lacking in quality of education because its continued failure to provide instruction on sexual orientation would provide students with "a limited understanding of the different lifestyles and partnerships that individuals may choose in present-day society."
Failure to comply with the Equality Act can result in a school being removed from the registry of independent schools, making it a criminal act to keep the school in operation.
Two other Orthodox Jewish girls schools in London also failed their most recent inspection for similar reasons. While a July 2013 Ofsted reported categorized Bnos Zion of as a good school, the most recent report released last week said that Bnos Zion failed to comply with the Equality Act because it did not provide students with instruction on LGBT lifestyles. Beis Ruchel D'Satmar also received failing grades in its May 2017 Ofsted report and all other Orthodox Jewish schools in the United Kingdom are likely facing similar reviews.
Gill Robins of the Christians in Education blog said that the idea that the report gave the Vishnitz Girls School a failing grade and ignores the fact that the school has met most of the necessary criteria indicates that alternative lifestyles are a higher priority than religious rights to Ofsted, reported Heat Street.
"The Equality Act is actually hierarchical, with sexual orientation and gender reassignment at the apex of the Act," wrote Gill Robins. "All equalities are equal, but some equalities are more equal than others."