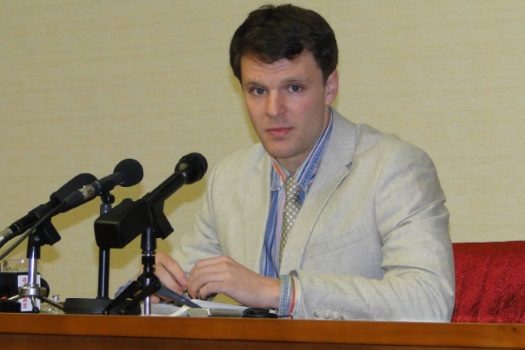 from VIN News by Sandy Eller:
Days after the death of American college student Otto Warmbier who was imprisoned for 17 months in North Korea comes word that officials negotiating his release deliberately kept his Jewish identity hidden from his captors.
North Korean officials said that Warmbier was detained because he had removed a poster from the walls of a hotel lobby in Pyongyang and was planning to deliver it to an Ohio church in exchange for a $10,000 used car.
The Times of Israel reported that negotiators were concerned that if word leaked that Warmbier was Jewish and therefore unaffiliated with any church it could potentially humiliate the North Koreans, making it even more difficult to secure Warmbier's release.
"The family chose, rightfully so, not to share that information while he was in captivity … because they didn't want to embarrass [North Korea] by explaining that he actually was Jewish," explained Mickey Bergman, executive director of The Richardson Center for Global Engagement which negotiates the release of prisoners who cannot be freed through conventional diplomatic channels.
Bergman said that it was obvious that the premise for Warmbier's arrest was fabricated but that playing along with the narrative supplied by North Korea was the most logical course of action.
"If that's what their story is, there's no point in fighting it if your objective is to get him out," said Bergman.  "When you realize he is Jewish you realize how objective that claim is."
Warmbier's family is not religiously observant, but he had always identified himself as Jewish and became active at the University of Virginia's Hillel after taking a 2014 Birthright trip to Israel.  During that trip Warmbier took on a Hebrew name and described his trip to the Western Wall in a blog post, saying that have to leave the holy site was "like saying goodbye to a loved one."
"Just being at a spot that has been central to Judaism for thousands of year was completely surreal," wrote Warmbier.  "The power that emanated from the wall showed on the faces of all those who were near it."