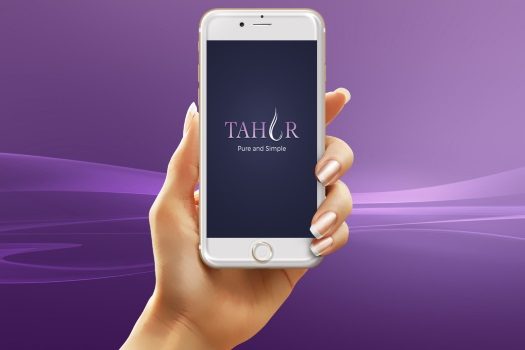 New App Aims to Bring Privacy to Bedikah Inquiries
For the first time in history, women can anonymously send pictures of their Bedikah cloths to their Rabbi with a new app's Rabbinically approved technology.
In a unique combination of tradition and technology, a Frum, Miami-based organization launches a new app that allows women to observe the laws of family purity — one of the most fundamental commandments kept in an observant Jewish home– without the usual embarrassment.
The app, called Tahor, (Hebrew for "pure"), addresses the time of "Niddah" when both husband and wife are forbidden from intimate relations. The prohibition on intimacy ends only after a woman has immersed herself in the Mikvah, or ritual bath.
The problem? The laws of Niddah are very extensive and most women cannot determine whether they are "Niddah" or not.  In those circumstances, they must present their undergarments to their Rabbi – a process many view as both embarrassing and stressful.  Indeed, many couples are too embarrassed to ask the Rabbi at all. The problem is compounded by couples who do not have access to a Rabbi in close vicinity.  These couples are faced with the responsibility of making spiritual and religious determinations without needed Rabbinical guidance.
The Tahor app now allows women a Rabbinically approved way to seek guidance without the usual embarrassment. Women can now utilize Tahor's photo and color technology to take a snapshot of their cloths and send those photos anonymously to a Taharat Hamishpacha – family purity – expert. The user can follow the step-by-step, Rabbinically-guided instructions, hit "send", and the image will go the designated responding Rabbi who can then determine the sender's purity status.
"Best of all, the entire experience is anonymous," said Zisa Levin, a social worker and co-creator of Tahor app. As a newlywed, she asked her friends which Rabbi answers their family purity questions. "When many of my friends answered that they were too uncomfortable to ask the Rabbi their questions directly, my husband and I knew we needed to do something about it."
Zisa and Yitz Levin sought out Rivkah Bloom, an MIT computer science graduate and creator of www.MikvahCalendar.com.  "With the encouragement of Rabbis worldwide, we spent the next two years developing and testing color accuracy technology to achieve the necessary color match" explained Yitz Levin, an attorney and co-creator of Tahor app.
After incorporating unique lighting and white-balance technology, as well as advanced measurement tools, Tahor app became a reality. "We're excited that technology has finally caught up with the demands of Halacha and more women can now be included in this Mitzvah," said Rivkah Bloom. "This app addresses a critical need in our community."
"Tahor app will help many women keep Taharas Hamishpacha", said Rabbi Auman, Former President of the Rabbinical Council of America (RCA) and Dean of Nishmat American Program.
"I've worked extensively with the Tahor team and their attention to halachic detail and commitment to this mitzvah is unparalleled," said Rabbi Davis, Senior Rabbi of Young Israel, Hollywood, Florida and responding Rabbi on Tahor app.
Tahor app is available for iPhone and will soon be released on Android.  You can download Tahor app here or visit www.Tahorapp.com for more information. If you have any questions, you can reach the Tahor team at info@tahorapp.com.