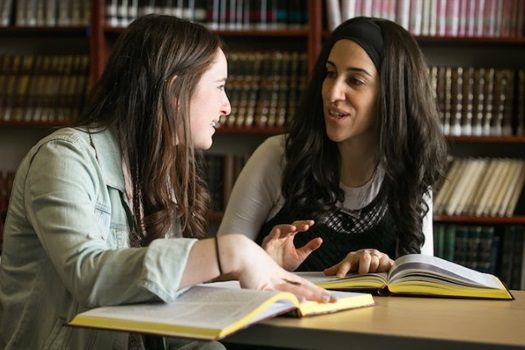 Photo courtesy of the OU
The Orthodox Union has teamed up with Jewish campus group Hillel to begin an outreach program for Jewish college students in the mold of Chabad-on-Campus. The OU will dispatch married couples who will serve as rabbis and rebbetzins, co-directing the organization's branches on campuses across the U.S.
from Arutz Sheva:
Every Friday morning for a month, rebbetzin Ariel Pardo has been meeting with three female Jewish students at Brandeis University for deep conversations that wind their way from Jewish ritual to intimacy.
"Ari is always so open and she makes us feel so comfortable," said Mollie Goldfarb, 19, a first-year student. "She gives off that warm, inviting presence everyone can be around. It's never just her teaching us, but us learning and discussing together."
Pardo and her husband, Rabbi David Pardo, are the Brandeis campus representatives of the Heshe and Harriet Seif Jewish Learning Initiative on Campus (JLIC), a program that places young, married Orthodox male and female educator couples on college campuses to foster and cultivate Orthodox Jewish life. The couples host everything from one-on-one learning and group classes to Shabbat and holiday meals.
A unique partnership between the Orthodox Union and the Jewish campus group Hillel, OU-JLIC currently has 60 educators on 22 campuses across North America. These modern Orthodox educators serve primarily Orthodox students, and the average educator couple serves for about four to five years.
"We're working with a population that is very intelligent," said Sharona Kaplan, the OU-JLIC educator at UCLA along with her husband, Rabbi Aryeh Kaplan. "Our job is to help their relationship with Judaism mature, to help them find value and relevance – and ultimately own their Judaism."