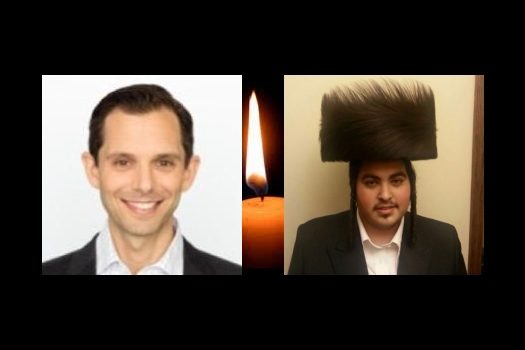 Left: Michael Emanuel, OBM. Right: Moshe Yehuda Vine, OBM. Photo: Yeshiva World News.
Dual Tragedies in Williamsburg and S. Diego
Two tragedies struck the Orthodox Jewish community today when two men died after they were run over by motor vehicles, one in the Williamsburg neighborhood of Brooklyn and the other in S. Diego, California.
From Yeshiva World News:
Tragedy struck the Williamsburg community on Thursday, when 21-year-old Moshe Yehuda Viner was R"L killed in an accident on Kent Avenue on Thursday morning.
His jacket reportedly got caught in the truck he had just finished unloading at a construction site – and was R"L dragged down the street.
Hatzolah and FDNY-EMS responded to the scene at Kent Avenue and South 10 Street at 11:18AM, and found the victim with serious injuries.
He was transported to the hospital by FDNY-EMS and Williamsburg Hatzolah Paramedics.
Unfortunately, he turned extremely critical after arriving at the hospital, and was Niftar around 1:30PM.
The NYPD Collision Investigation Squad was on the scene conducting an investigation.
The Niftar was a Talmid of Satmar UTA in Boro Park, and in Satmar Kiryas Yoel Mesivta. He got married just last year.
The Levaya will be held tonight (Thursday) at 8:00PM at the Satmar Bais HaMedrash on Hooper Street in Williamsburg, followed by a Levaya and Kevura at the Satmar cemetery in Kiryas Yoel.
Also from Yeshiva World News:
We regret to inform you of the tragic Petira of Mr. Michael Emanuel Z"L, who was critically injured in an accident in San Diego on Monday.
As YWN had reported, Michael was seriously injured after he tried to put a stop to an unoccupied runaway SUV in front of a Rolando- area home.
According to San Diego Police, the parked 2008 Mazda began rolling backward down a driveway in the 6100 block of Arosa Street as Michael was standing alongside it on Monday morning.
The SUV R"L ran him over, then struck three other vehicles before crashing to a halt, Sgt. Tom Sullivan said.
He was rushed to Scripps Mercy Hospital in Hillcrest where he was listed in serious condition. Tragically, he was Niftar on Wednesday night.
He leaves behind his wife, Mrs. Ingrid Emanuel and two young children Jonah and Carmen.
The Emanuel family is part of the Beth Jacob Community in San Diego, California.
The Levaya and Shiva will take place in Australia.
A fund has been set up for his family.