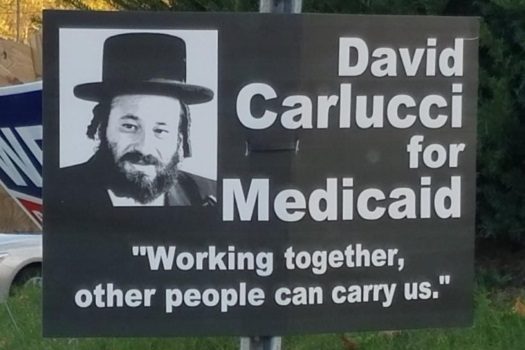 File photo: Anti Semitic campaign poster in
by Sandy Eller – VIN News
A pre-Election Day mystery has popped up in Rockland County with signs that have potentially anti-Semitic overtones linking two candidates running for different offices, while casting aspersions on the Chasidic community.
The black and white signs bear the words "David Carlucci for Medicaid" and show a picture of Chasidic county legislator Aron Wieder, reported The Journal News.  Smaller print on the lower half of the signs bear the words "Working together other people can carry us."
State Senator David Carlucci is running for re-election against Republican Tom DePrisco in the 38th District, which covers virtually all of Rockland County's Jewish community.  Wieder, a Democrat, is facing off against incumbent Karl Brabenec in the 98th Assembly District, which includes parts of Monsey, Kaser and Wesley Hills and extends northwest through Kiryas Joel and Monroe.
The signs, which were posted throughout Ramapo and Clarkstown on Sunday night, give no indication as to their origin.
There "is nothing on them to suggest who is paying for them," said Vincent Balascio, chief of staff for Clarkstown town supervisor George Hoemann.
Many of the signs have been removed by code enforcement officers because they were improperly placed in the public right of way.
Negativity in the final days before an election is not uncommon observed Carlucci, who categorized the signs as "extremely unfortunate."
"Every candidate runs into issues with signs," said Carlucci.  "I learned early on you can't get caught up on the sign issue."
Both Brabenec and DePrisco denied any involvement in the signs and said that their campaigns are focused exclusively on the issues, not negativity.
"They are simply ridiculous and do not make sense," said Brabenec.  "It is important to me that candidates run positive campaigns based on the issues.  I have always kept it positive and will continue to do so."
"While my opponent and I can and will criticize each other regarding specific issues, I will always remain focused on being civil," noted DePrisco.
Wieder did not respond to a request for comment on the issue.
While the political candidates all seemed eager to distance themselves from the signs, sentiments on the Clarkstown – What They Don't Want You To Know Facebook page, dedicated to informing town residents about "politics, scandal and patronage" ran in the opposite direction, praising the signs as "one of those classic statements that crystallizes an election."
"In our opinion this sign makes a brilliant appeal to voters not to vote for either Senator Carlucci or Legislator Wieder and is a classic example of the expression of free political speech," read a post that appeared on the page on Monday evening.