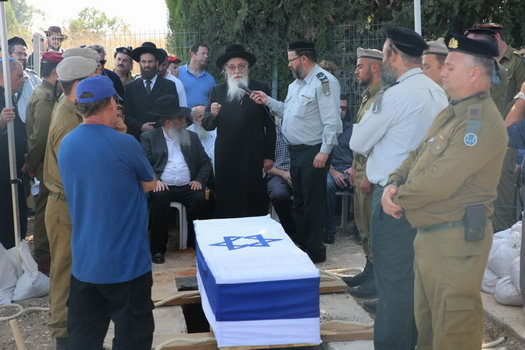 Two IDF soldiers – including Sgt. Shlomo Rindenow, a 20-year-old 'lone soldier' from New Jersey – were killed, and three others were wounded when a grenade in the possession of a driver of a light armored military vehicle went off on Mount Hermon in the Golan Heights.
Sgt. Husam Tafesh, 24, a Druse citizen and the driver of the vehicle, was the second casualty.
From Tazpit News Agency:
Three other soldiers were wounded in the blast, with one remaining in serious condition. It is still unclear why the grenade detonated, and the IDF is investigating the incident.
A funeral service was held at the synagogue in Netzer Hazani, where Shlomo Rindenow's brother resides. Shlomo Rindenow lived in Kibbutz Sde Yoav.
Rindenow was the fifth of his brothers to volunteer in the IDF as a lone soldier, a term used in Israel to describe those serving without any family in Israel, and his death has shaken the lone soldier community.
"It's devastating," said Mordy Botnick, founder of the lone-soldier-support organization Chayal El Chayal. "It has been happening way too much. Five lone soldiers have died in the past two years alone."
Botnick was referring to lone soldiers Sean Carmeli, Max Steinberg, and Jordan Ben Simon, who were killed fighting in Operation Protective Edge in 2014.  Another soldier, David Gordon, died soon after.
Rindenow was remembered by friends and family as someone who was always smiling and never stopped trying to help others. "Prior to enlistment, Shlomo worked as a dog handler for a search-and-rescue unit. He always wanted to assist others."