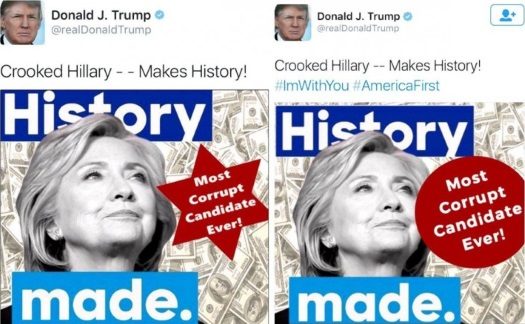 Republican presidential candidate Donald Trump on Saturday tweeted an image of rival Hillary Clinton alongside hundred-dollar bills and a Star of David bearing the words "most corrupt candidate ever!", prompting outrage and bafflement on social media.
Trump's account on Saturday tweeted the so-called "meme" — then deleted it and replaced it substituting a circle for the star symbol that resembles the Jewish Star of David. The change came after a social media uproar about the star tweet's potentially anti-Semitic implications.
In a tweet on Monday, Trump said he had not meant the six-pointed star to refer to the Star of David. Rather, he said, the star could have referred to a sheriff's badge, which is shaped similarly except for small circles at the ends of each of its six points, or a "plain star."
Trump, who is running for president as a Republican, has repeatedly said that he would remain a staunch defender of Israel and last week shot down a question from a town hall attendee who questioned the U.S.'s defense of the Jewish state. His daughter, Ivanka, converted to Judaism and is raising her children Jewish.