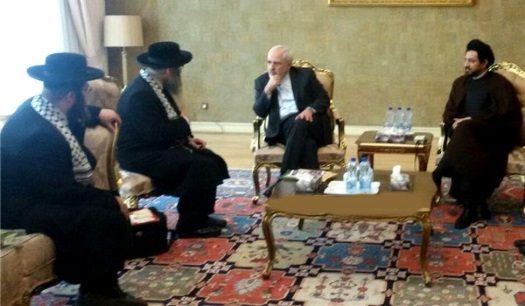 Neturei Karta Leader Yisroel Dovid Weiss, accompanied by several acolytes, visited the terrorist-sponsoring state of Iran, where he was warmly greeted by government officials and hardline clerics. His message: the racist Israeli regime must be destroyed.
The Iranian government's official mouthpiece, the Fars News Agency, reports:
Members of Neturei Karta, an anti-Zionist Jewish religious group, in a meeting with Iranian Foreign Minister Mohammad Javad Zarif underlined their continued campaign against the Zionist regime until its full collapse.
"Our members in the occupied territories (of Palestine) refrain from taking Israeli ID cards and they are everyday hurt by the racist Israeli regime," Neturei Karta Leader Rabbi Yisroel Dovid Weiss said during the meeting in Tehran on Monday.
During the meeting which was also participated by Canadian Rabbi Yeshaye Rosenberg, the two Rabbis underscored their irreconcilable fight against the Zionist regime until its collapse.
Zarif, for his part, expressed pleasure in meeting the two Rabbis, and stressed the necessity for viewing Jews and Zionists as two separate groups.
Neturei Karta is a religious group that split from normative Judaism, formally created in Jerusalem, British Mandate of Palestine, in 1938, splitting off from Agudas Yisrael. The Neturei Karta see themselves as the "true Jews".
Neturei Karta oppose Zionism and call for annihilation of the Zionist regime.