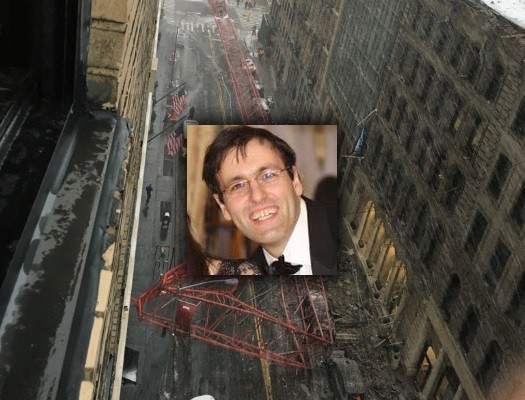 The single fatality in Friday morning's crane collapse in Manhattan has been identified as 38-year-old David Wichs, an Orthodox-Jewish resident of the Upper West Side.
From VIN News by Sandy Eller:
Police officers and EMS who responded to the scene at 60 Worth Street pronounced 38 year old David Wichs dead at the scene, with two other seriously injured victims transported to area hospitals.
Wichs worked as an analyst for Tower Research Capital, a financial trading firm with offices in Lower Manhattan, located just two and a half blocks from the site of the deadly collapse.  As previously reported on VIN News, the accident took place at approximately 8:25 AM, approximately 10 blocks north of the World Trade Center.
The 38 year old Wichs was the son of Dr. Tomas Wichs, a computer scientist,  and well known Borough Park pediatrician Dr. Adela Wichs who emigrated to the United States from Prague with their two sons over 20 years ago.
Robert Harold heard a crashing sound as the rig fell right outside his office window at the Legal Aid Society.
"You could feel the vibration in the building," said Harold, who recounted seeing onlookers trying to rescue someone trapped in a parked car and seeing a person lying motionless on the street.
David Wichs graduated both the Yeshiva of Flatbush and Harvard, where he served as the co-chair of the local Hillel's Men's Group and published a thesis titled Morse Theory and its Applications.  Wichs and his wife Rebecca were married just over three years ago.
"He was brilliant, successful and everything good," one friend who asked to remain anonymous told VIN News.
"He really created a life for himself. He literally took every opportunity he could find," his sister-in-law, Lisa Guttman. told the AP.
A 1990 collection of interviews about growing up in modern day Eastern Europe called A Tree Still Stands: Jewish Youth in Eastern Europe Today, includes some of the then-eleven year old Wichs' reflections on growing up in modern day Prague.
"In Czechoslovakia I don't really feel Jewish," observed a fifth grade Wichs.  "That is mostly because if I tell others I am a Jew I can make big problems for myself.  If I choose to go to a certain high school and if they look at some of my school records and see my absences for the Jewish holidays, I will not be admitted to that high school.  There are no Jews in my public school and only one other besides myself in the entire school of eight grades."
Wichs noted that a classroom discussion on World War II focused on Communists, mentioning only peripherally that Jews had died as well.
"I go to Hebrew school once every two weeks," continued Wichs.  "There are about ten children who attend. We learn to read and write some Hebrew and we talk about our Jewishness. Hebrew school is important to me."
Even as a pre-teen, Wichs understood that most of Prague's Jewish community had been wiped out by the Nazis and many of those who survived either intermarried or preferred to hide their religious identity, noting that the word "Jew" was often used as a curse word.  Wichs remarked that he himself had been the target of anti-Semitism when visiting East Germany with his boy scout troop.
"We were all Czech children," said Wichs. "Some of them said 'you Jew' and others make jokes against Jews.  I didn't like this. These kids probably never met a Jew in their life and thought Jews were some kind of ancient people who live a thousand years ago. I think these children were probably raised in a bad family. I'll never understand why they said these things."
Wichs, who leaves behind no descendants, projected ahead to his future in his thoughts as an eleven year old.
"When I will have children I don't think there will be a Jewish community here in Prague.  I hope there will be but a lot of people want to move out of the country and we are not so many here."