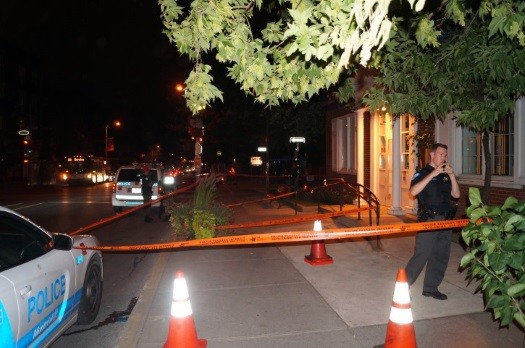 Photo: Yanky Pollak/VIN News.
A Montreal resident is in a medically induced coma in a local hospital after being subjected to a vicious unprovoked beating Thursday night outside an Outremont Bank.
The victim, who is approximately 30 years old, was exiting the Bank of Montreal at 1554 Avenue Van Horne at about 7:45 PM when he was attacked by a man who, according to witnesses, had been sitting on a bench outside the bank.
The victim was identified as Shlomo Zalmen Rosenberg, a member of Outremont's Chasidic community.
"The attacker was sitting on a bench outside the bank," Meilich Brach of Chaverim told VIN News. "He choked him and he broke two bones, one in his head and one in his shoulder."
The assailant also poured some kind of liquid on Rosenberg during the attack.
"It smelled like gas, but we don't have the bottle yet so we don't know what it was."
A mother with children who witnessed the attack called Hatzolah, while several other witnesses attempted to chase down the assailant.
"They called 911 and they were told to stop following in case he was armed," said Brach.  "We tried with police to see where he could have run but so far we have no leads."
Hatzolah treated Rosenberg when they arrived on scene and transported him to Montreal General Hospital where he remains in critical stable condition.
Nothing was taken from Rosenberg during the attack which witnesses said lasted a minimum of 90 seconds.
"It doesn't look like he even tried to take anything," said Brach. "He just attacked him.  We didn't see any motive.  Some of the witnesses said he looked like an Arab but I can't tell you if he was targeted because he was a Jew."
Its unclear at this time if this was a bias crime.