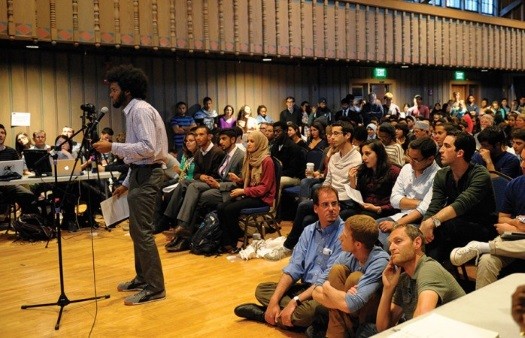 File photo: a UC-Berkeley Student Senate hearing.
Jewish students at UC Berkeley were in a celebratory mood last Wednesday night after the unanimous passing (20-0) of a bill by the student government (ASUC) condemning anti-Semitism. The bill empowers Jewish students "to define, within the guidelines of the nationally recognized definition put forth by the United States State Department, what is and is not antisemitism, in the same manner in which other communities are granted that right."
Detailing recent anti-Semitism in France and Denmark, and the "Many incidents of anti-Semitism [that] occur both inside and outside of the classroom on UC campuses," the bill promises to condemn and "actively fight against anti-Semitism according to the U.S. State Department's definition."
Student Senator Ori Herschmann sponsored the bill. "This is about making Jewish students feel safe and welcomed on our campus . . . and to embrace their Judaism without feeling the anti-Semitism so many have felt here," he told lubavitch.com.
The bill is a necessary first step towards efforts to educate against anti-Semitism, especially as anti-Israel student activists staged a protest Wednesday, the same day that the bill was passed, setting up fake roadblocks portraying Israel as an apartheid country and intimidating Jewish students with hateful slogans demonizing Israel and promoting BDS.
Speaking to the senate before the vote, Rabbi Gil Leeds, Chabad representative to UC Berkeley, called on them to reflect on the story of Purim—which comes up next week—when in addition to the spiritual activism of the Jewish people, the historic anti-Semitic plot was thwarted "through a series of political and governmental petitions."
Himself a CAL alum, the campus rabbi appealed to students to work towards positive transformation: "Anti-Semitism across the globe has already reached a fever pitch and I believe that no one wants to see anything short of absolute tolerance, total acceptance and unconditional love at our beloved UC Berkeley and throughout the UC System."