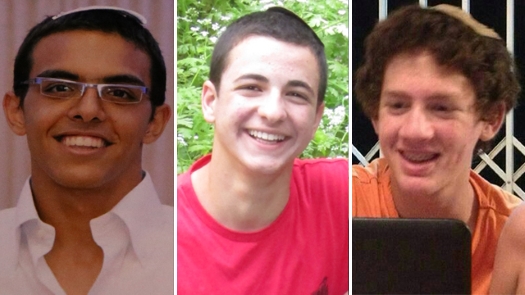 Eyal Yifrach, 19, Naftali Fraenkel, 16, and Gilad Shaar, 16, HYD.
Hussam Kawasme, the Hamas operative accused of orchestrated the June kidnapping and killing of the three Israeli teenagers, HYD, was arrested, the Israeli government announced.
From the JTA:
A West Bank man said to be the leader of the terrorist cell that kidnapped and killed three Israeli teenagers in June was arrested.
A gag order on reporting the arrest, which took place more than three weeks ago, was lifted Tuesday evening, according to Israeli media.
Hussam Kawasme of Hebron was apprehended while attempting to flee to Jordan under a false identity with the help of his family, Ynet reported. Kawasme reportedly admitted to serving as the leader of the cell that perpetrated the murders of Gilad Shaar, Naftali Fraenkel and Eyal Yifrach. Kawasme said that funding for the attack, which he used to buy weapons, came from Hamas in Gaza.