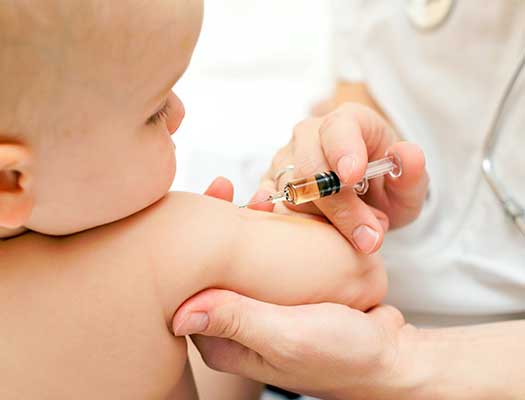 Illustration Photo
Vaccine Developer Urges Orthodox Jews to Vaccinate
A doctor who developed the measles vaccine recently urged members of ultra-Orthodox Jewish communities to vaccinate their children, noting that those communities who refused the 50-year-old vaccine were linked to a third of US measles cases last year.
The Times of Israel reports that Dr. Samuel Katz, the last surviving member of the team of researchers that developed the measles vaccine 50 years ago, believes it is "ludicrous" that parents do not vaccinate their children against measles.
The Center for Disease Control announced on December 5 that there were a total of 175 cases of measles in the United States in 2013, tripling of the annual average.
Fifty-eight of those reported cases were among Hasidic Jews in Brooklyn's Boro Park and Williamsburg neighborhoods. It was the largest outbreak of measles in the US since 1996. The CDC reported that the cause of the outbreak last spring in Hasidic Brooklyn was an unvaccinated 17-year-old who was infected with the disease after a trip to England.
Among the Brooklyn cases, 21 percent were among children too young to have the MMR vaccine. Twenty-eight cases in Boro Park were members of three extended families who had refused to vaccinate their children.
Every day, 430 children die of measles worldwide. There were an estimated 158,000 measles deaths in 2011.
Dr. Katz Katz was the 2003 winner of the Albert B. Sabin Gold Medal awarded by the Sabin Vaccine Institute for his contributions to vaccine discoveries during his career, and is currently the Chairman Emeritus of Pediatrics at Duke University.
————————————————————
In related news: NYC Board of Health Mandates Flu Shots for All Pre-School Children
From CBS New York:
Children who go to preschool or daycare in New York City will now be required to get flu shots.
The Board of Health voted Wednesday in favor of the mandatory vaccine for children under 6. The new rule takes effect in 30 days and will be required for about 150,000 children.
Connecticut and New Jersey are the only two states in America with mandatory flu shots for children in daycare. The measure passed Wednesday by the Board of Health would only apply to New York City and not the rest of New York state.
Children in daycare and preschool are already required to get vaccinated against illnesses such as measles and chicken pox. City officials believe the latest initiative adds another layer of protection for children and those who come in contact with them.
Parents who are strongly opposed to the initiative could avoid the mandated vaccines by sending their children to a state preschool or daycare. Parents may also opt out for medical and religious reasons.