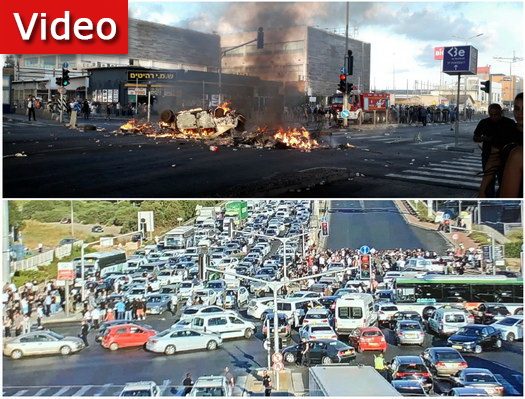 Thousands of Ethiopian Israelis took to the streets in many cities across Israel, bringing major intersections to a halt. Dozens were arrested as protesters hurled bricks, rocks, and other objects at police. Tires were set ablaze as well. People were stuck in traffic for hours and hours. In many locations Police did not attempt to stop the protests. Many police cars were destroyed, as protesters flipped them over, while others were set on fire.
They are protesting the killing of an unarmed Ethiopian man on Sunday night by an off-duty policeman. Solomon Taka, 18, is the Ethiopian Israeli youth who was shot and killed by police on Sunday night. The policeman who fired at him was dressed in plainclothes. The fatal shooting occurred in the Kiryat Chaim neighborhood of Haifa.
The officer was arrested on suspicion of murder. The Haifa Magistrate's Court later released the officer to house arrest.
According to Channel 13, the officer is likely to avoid a more serious charge of manslaughter as it does not appear that he intended to kill the 19-year-old Ethiopian-Israeli. Instead, he fired at the ground and the bullet bounced and hit the victim.
Read More at YeshivaWorldNews