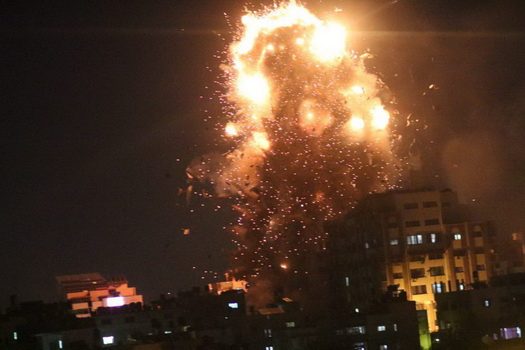 Rocket attack on Gaza during recent military escalation.
Hamas has been stunned by the revelation that the IDF essentially operated an "Israeli base" in the heart of the Gaza Strip, exposed by a botched intelligence-gathering operation earlier this month, Hebrew media outlets reported over the weekend.
The operation resulted in a firefight in which seven people were killed, including a Hamas leader and an Israeli commander. The incident led to massive Hamas rocket fire on Israel's south, and nearly sparked a war before both sides accepted a ceasefire.
According to Israel's Channel 2, Hamas' investigation into the incident revealed that the IDF unit entered Gaza either through the Erez Crossing with Israel or the Rafah Crossing with Egypt. Those crossing at both sites are required to present official identification.
More troubling for the terrorist organization is that the Israeli unit apparently operated out of a rented house under cover of a humanitarian organization. Two vehicles and weapons used by the unit have been discovered.
Hamas is now seeking information from Gaza residents, and has set up a special WhatsApp group for this purpose, according to the report.