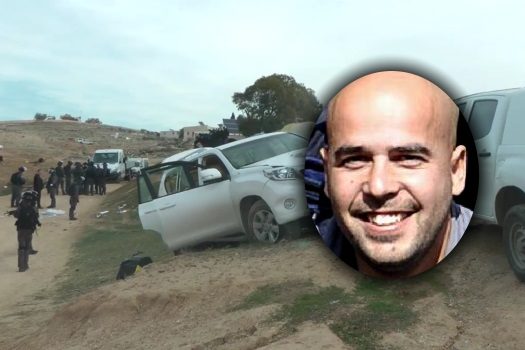 An Israeli Arab rammed his vehicle into a group of police officers on Wednesday, killing one of them before he was shot dead during clashes in southern Israel.
from Yeshiva World News:
It is now cleared to release that a policeman was killed in the Wednesday morning 20 Teves vehicular ramming attack in the southern Bedouin community of Um Chiran.  Two people were killed in the attack, including the policeman. The terrorist was eliminated by security forces. Another policeman sustained moderate injuries.
The name of the slain officer is Staff-Sgt. Erez Levy, HYD, 34.
Levaya details to be announced.
Prior to the demolition of illegal structures in the Bedouin community, a jeep driven by terrorist began heading towards border police at high speed. They opened fire and killed him. Another person was killed in that attack as well. A person who sustained moderate injuries was transported to Soroka Medical Center in Beersheva.
During the clashes between police and residents as the demolitions began, a number of persons were injured including Arab MK Adey Odeh, who sustained light head injury.
Arab MK Jamal Zahalka arrived in Um Chiran as well, accusing police of preventing him from entering the community despite his parliamentary immunity. He tells the media he wishes to get in to get a firsthand look at what occurred and the ongoing demolitions. He blames the government for the spilling of blood by insisting on moving forward with the demolitions, failing to mention they were ordered by the High Court of Justice.
תיעוד פיגוע הדריסה בנגב: בצילום מהמסוק המשטרתי ניתן לראות את רכב המחבל עומד בצד הדרך, כשאורותיו כבויים. כשהבחין בלוחמים, האיץ לעברם ופגע בהם pic.twitter.com/3hZ60bxpn8

— משטרת ישראל (@IL_police) January 18, 2017
תיעוד מזירת פיגוע הדריסה ביישוב אום אלחיראן שבנגב, בו נרצח הבוקר השוטר רס"ב ארז (עמדי) לוי (הועלה בדרגה לאחר מותו) pic.twitter.com/FwV2LdH3Eo

— משטרת ישראל (@IL_police) January 18, 2017