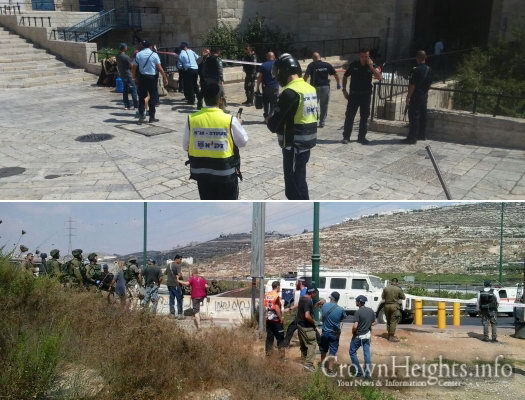 After a seeming lull in terrorist attacks, there were two attacks within an hour this afternoon, Friday, September 16, in Israel.
ZAKA volunteers were present at both scenes.
In the first attack at around 1:00pm, a Jordanian man was shot and killed as he tried to stab a police officer outside the Damascus Gate – the first such attack in the area for nearly six months.
ZAKA Jerusalem volunteer Meir Akar said: "We received a report of a stabbing attack after a period of relative calm. I arrived at the scene to find the terrorist showing no signs of life. After the police declared the area safe, the ZAKA volunteers placed the terrorist's body in a black body bag. As we were in the midst of our work at the scene, I heard a call from the ZAKA hotline regarding another suspected terror attack, this time near Kiryat Arba. I hope this is not the beginning of another round of terror attacks."
In the second attack, which took place at around 1:40pm, a Palestinian man and woman attempted to ram their vehicle into a bus stop at the Elias junction, near Kiryat Arba. The security forces killed the male terrorists and neutralized the female terrorist.
ZAKA volunteer in the Shai region, David Adrai said: "Two terrorists, a man and a woman, tried to carry out a car-ramming attack using a truck at the bus stop at the entrance to Kiryat Arba. IDF forces killed the driver and neutralized the passenger. After a sweep of the scene by the security forces, the female terrorist was evacuated by the Red Crescent in a critical condition and the ZAKA volunteers dealt with the terrorist's remains."
Photos courtesy ZAKA