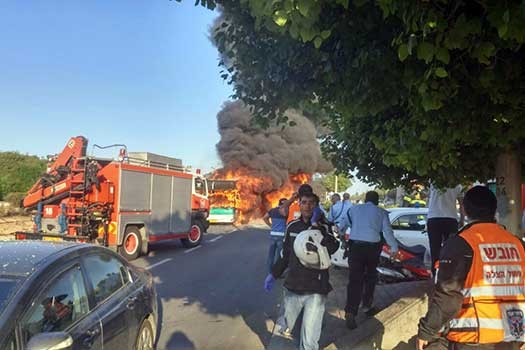 Bus Explodes in Jerusalem on Way to Chevron
A bus has exploded in the heart of Jerusalem, wounding at least 16 people. An Israeli police spokeswoman initially called the blast a terrorist attack, but in an updated statement said it may have begun when an empty bus caught fire, ignited another bus that had passengers aboard.
Police said all possibilities are being investigated.
The incident occurred on Derech Chevron in southwest Jerusalem on Egged bus #12.
The wounded were evacuated to nearby Shaare Zedek Medical Center and Hadassah University Medical Center in Jerusalem.
Attacks on Israeli buses by suicide bombers were a hallmark of the Palestinian 'intifada' in 2000-2005, but have been rare occurrence since.