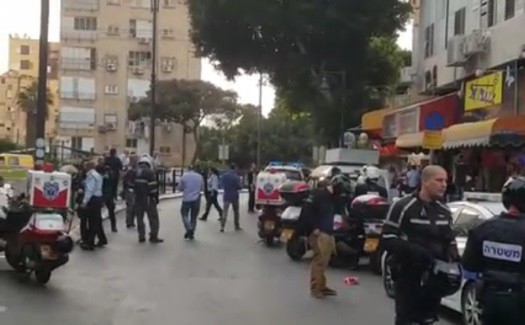 The scene of the stabbing attack in Petah Tikva.
Three Israelis were wounded, at least two of them critically, in separate shooting and stabbing terror attacks that occurred within minutes of each other in Jerusalem and Petah Tikva, respectively. Later in the day, a third terror attack occurred in central Jaffa, with the stabbing of at least three Israelis, one of whom died while being treated at the hospital.
From the Jerusalem Post: 
Two Israelis were wounded in a shooting attack targeting security forces near Damascus Gate in Jerusalem's Old City on Tuesday afternoon, according to initial police reports. MDA paramedics said that both men were seriously wounded in the attack.
Police spokesman Mickey Rosenfeld said that the suspect fired at police officers, wounding one person. Officers gave chase after the suspect. He fired at them again, wounding another officer while fleeing. Police then shot and killed the suspect.
Shortly beforehand, one Israeli was moderately wounded in a suspected terror stabbing in Petah Tikva. Police reported that the assailant in the Petah Tikva attack had been "neutralized."
Later on Tuesday, a terrorist stabbed two people at the entrance to the port in Jaffa and continued toward the popular area's marina stabbing more victims. Emergency teams evacuated three victims to nearby hospitals.
According to Wolfson Medical Center in Holon, one victim the hospital was treating succumbed to his wounds sustained in the stabbing.
Security forces are searching the Jaffa Port area for the assailant.