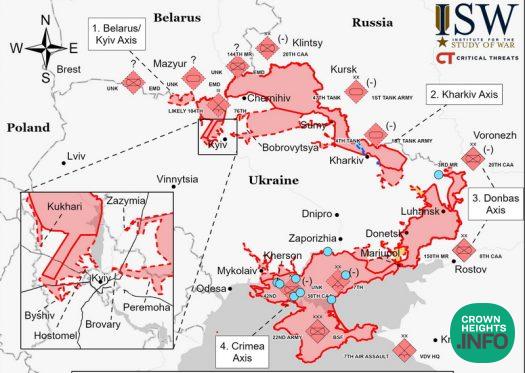 (UPDATED 11:30AM) Russia Finally Untangles Enormous Military Convoy Near Kyiv, Russia Provides Provocations To Ensnare Additional Counties Into the War
by CrownHeights.info
Russian President Putin announced the invasion of Ukraine on February 24th, and immediately followed it with action. The following is a summary of incidents, numbers and breaking news on the war.
This article will be updated throughout the day as information becomes available.
11:30am: General Update:
All contacts with the Chernobyl staff have been lost, Ukrainian officials have told the UN.
Russian Defense Minister Shoigu announces that more than 16,000 people from Middle Eastern countries want to come to the aid of the DPR and LPR, potentially dragging the Middle East into the war.
According to Ukraine's Defense Ministry, Russian President Vladimir Putin has given an order to prepare a disaster at the Chornobyl nuclear power plant and claim that Ukraine is responsible for it.
Belarusian media claims that an airstrike was conducted on Kopany, Belarus. Ukrainian Armed Forces says this is a provocation conducted by the Russian Armed Forces to give Lukashenko justification to send soldiers into Ukraine.
Russia conducted missiles strikes on airfields in Western Ukraine to prevent them from being used for resupply flights or staging new jets.
Canada sanctions Russian billionaire Roman Abramovich, following a similar move by the UK yesterday.
President Biden will announce Friday that the US, the European Union and members of the G-7 group of countries will begin removing Russia from their list of "most favored nations" for trade.
Ukraine's president, Volodymyr Zelenskyy, said 100,000 people were evacuated over the past two days during cease-fires in the north and center of the country.
To date, approximately 2.3 Million Ukrainians have fled the country since the war began.
11:25am: Situational analysis from Sen. Marco Rubio:
For earlier updates: Click Here