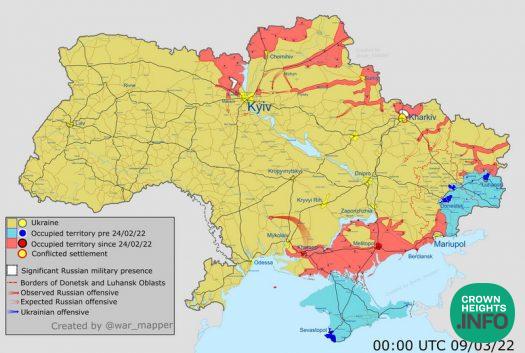 (UPDATED 6:35pm) Russia Shifts Tactics, Fear Of Chemical Weapon Use
by CrownHeights.info
Russian President Putin announced the invasion of earlier this month, and immediately followed it with action. The following is a summary of incidents, numbers and breaking news on the war.
This article will be updated throughout the day as information becomes available.
6:35pm: From Sen. Marco Rubio:
Russia is making costly progress in their effort to mass troops to the North,West & East of Kyiv & have destroyed supply routes to the city from the SW. But access & resupply remains largely uncontested from the south.
6:30pm: General Update:
Hospitals in Mariupol Struck, Unknown number of deaths.
Multiple Safe Passage corridors placed for civilians to escape besieged cities.- Enerhodar to Zaporozhia – Sumy -> Poltava – Mariupol -> Zaporozhia – Volnovakha -> Pokrovsk – Vorzel, Bucha, Borodyanka, Irpin, Hostomel -> Kyiv
The Polish Fighter airplanes which were supposed to be transferred to Ukraine VIA the United States is stalled as the US balks at the deal.
The US authorities will not impose sanctions against uranium from Russia because American nuclear power plants depend on it.
Britain imposed a ban on exports of aviation and space products and technologies to Russia.
EU to approve new sanctions against Russia, Belarus.
The Russian MOD is forced to admit that conscripts have been taking part in the conflict with Ukraine after a number had been captured.
Russia loses 56 planes, 82 helicopters in 2 weeks of fighting. Numbers were released by the Ukraine Armed Forces.
For earlier updates: Click Here