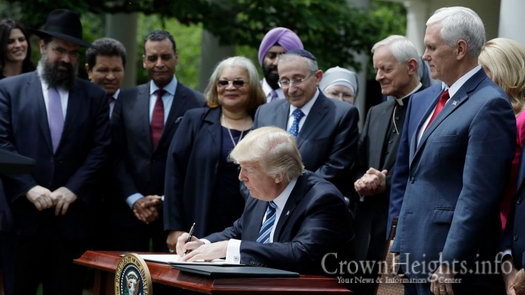 by CrownHeights.info Staff
President Donald Trump signed an executive order today, Thursday, making it easier for religious organizations such as synagogues and churches to actively participate in politics without risking their tax-exempt status, and to protect faith-based groups from being forced to pay for abortion services under Obamacare.
President Trump took the action at a National Day of Prayer event as he hosted religious leaders at the White House, including Chabad representative to Washington, D.C. Rabbi Levi Shemtov.
The order is aimed at easing an IRS provision that prohibits churches from directly opposing or endorsing political candidates. Mr. Trump has been promising to get rid of the measure since the early days of his campaign for the presidency.
The action will direct the IRS to immediately "exercise maximum enforcement discretion to alleviate the burden" of the so-called Johnson amendment, a tax provision which was enacted in 1954.