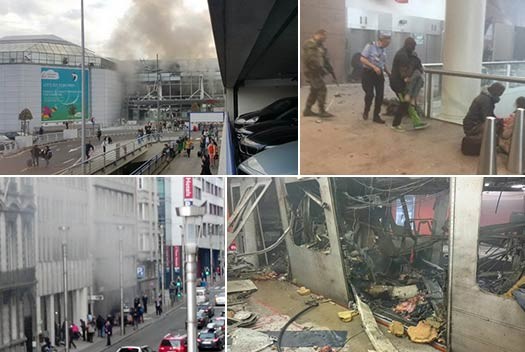 Two deadly explosions rocked the Zaventem international airport in the Belgian capital of Brussels, killing at least 14 people, while a second bombing in a nearby metro station is believed to have killed at least 20 more.
Belgian media reported that at least 14 people were killed in a bombing and an apparent suicide attack at the Zaventem airport, where gunfire was also reported. An additional 20 were killed in blasts at the Maelbeek metro station, Flemish public broadcaster VRT said, citing transit officials.
A Kalashnikov assault rifle and undetonated suicide belt were found at the airport, Belgian media reported.
Both the airport and all Brussels metro stations were evacuated. Flights to and from Brussels were suspended and all city public transportation—including trains, buses, and trams— was shut down.
Witnesses described a chaotic scene as emergency personnel worked to treat the wounded and clear the area.
"I helped carry out five dead, with their legs destroyed, as if the bomb came from a piece of luggage," Alphonse Youla, an airport worker said.
Multiple reports over social media said that a large group of Jewish men and their families had just concluded morning pray services in the terminal nearby, many of whom were returning from a wedding and were in the airport for a stopover and connecting flight.
Abdel MelloulIt was working near the subway station when the blasts went off.  "It was terrible," he told De Standaard."I saw people who were completely burnt, there was a lot of blood."
The metro station is close to both the European Union headquarters and U.S. Embassy.
"We are following the situation minute by minute," Belgian Prime Minister Charles Michel said. The victims and the people present at Brussels Airport are the absolute priority."
Meanwhile police in New York, Los Angeles, and D.C. said that they were ramping up security.