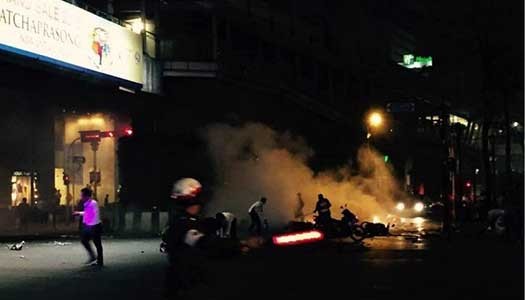 An apparent bomb-rigged motorcycle exploded in a popular tourist hotspot in central Thailand, killing some 15 and injuring many more.
Deputy national police Chief Aek Angsananond was quoted by Reuters as saying a "motorcycle bomb" exploded near the Erawan shrine, which is close to a popular shopping and tourist area in central Bangkok. The shrine also draws a steady stream of worshipers and others.
The area, also known as the Ratchaprasong intersection, has been a staging area for political demonstrations between powerful rival factions in past years.
Speaking with Shturem, local Chabad Shliach Rabbi Nechemia Wilhelm said "the attack took place just a few kilometers from the Chabad House. At the moment there are no known Jewish casualties and we are in constant communication with the police and are being updated."
Reports said that police have discovered three additional explosive devices in the area. Some reports place that number even higher – at 5.
UPDATE: 3rd bomb found now – 15 dead, 80 injured at Erawan according to Nation TV report now. (@forestmat) pic.twitter.com/DRHJXuneaD

— Breaking News (@NewsOnTheMin) August 17, 2015