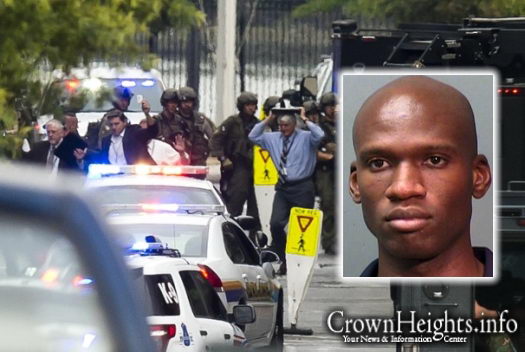 12 Killed in Washington, D.C. Shooting Rampage
A former naval officer packing an assault rifle and two other guns sprayed an office building with bullets at the Washington Navy Yard on Monday, killing 12 people in a rampage that paralyzed part of the nation's capital, authorities said. It was the deadliest mass shooting in the United States since the massacre at Sandy Hook Elementary School last year.
Authorities said that the gunman, a civilian contractor identified as Aaron Alexis, 34, was killed after exchanging fire with officers who stormed the headquarters of the Naval Sea Systems Command in a massive law enforcement response.
Mayor Vincent Gray said there was no information on a motive. Authorities said Alexis might have used someone else's identification to get into the office building. At least four people were wounded, but some reports placed the number as high as 16.
"There is no question he would have kept shooting," Washington Police Chief Cathy Lanier said.
Authorities told a late-afternoon press conference that they were still looking for one man considered a possible suspect. Earlier they were looking for two, but they found one and ruled him out as a person of interest, police said.
Besides being the biggest shooting rampage since last December, when 20 children and six adults were killed at Sandy Hook in Newtown, Conn., it was the deadliest on a U.S. military installation since 13 people were killed at Fort Hood, Texas, in 2009.
President Barack Obama called it a "cowardly act." He said the rampage targeted patriots, military and civilian alike, "men and women who were going to work, doing their job, protecting all of us."
The Navy said the first shots were fired at 8:20 a.m. ET at the Sea Systems Command headquarters. Alexis was carrying an AR-15 military-style semiautomatic rifle, a double-barreled shotgun and a handgun, law enforcement officials said.
Patricia Ward, who works at the Navy Yard, said she had just gotten breakfast in the cafeteria when she heard "three gunshots, pow-pow-pow, straight in a row."
"All of the people that were in the cafeteria, we all panicked, and we were trying to decide which way we were going to run out," she said. "I just ran."
The roughly 3,000 people who work there were told to stay in place. For the next several hours, conflicting reports circulated about whether the shooter was still alive, whether he had accomplices, how many places were active shooting scenes, and how many people were dead and injured.
In the meantime, chaos enveloped the surrounding neighborhood. Flights were briefly grounded at Reagan National Airport. Nearby schools and bridges the headquarters of the Department of Transportation were locked down. Farther away, police stepped up security on the Capitol grounds.
Many of the details were still uncertain at midafternoon. Hours after the shootings, the sergeant-at-arms of the Senate said he had recommended a "shelter-in-place" order to Senate leaders.
Terrie Durham, who works at the Naval Sea Systems Command building, said she saw a gunman who appeared to be wearing dark fatigues. Another worker there, Todd Brundidge, said he heard a fire alarm go off, and later saw the gunman come around the corner.
"He turned our way and started firing, and we ran downstairs to get out of the building," Brundidge said. "No words. He raised the gun and started firing."
Speaking about the deadly shooting at a Washington D.C., area Navy Yard, Secretary of the Navy Ray Mabus says, "The Navy family has suffered an horrific attack."
Brian Chaney, who works on the second floor, described it as a typical Monday. He said he took the stairs toward his office and heard what he thought was a locker door slamming. He later heard another round of what turned out to be gunshots.
"I never heard any screaming, 'Oh, my God,' nothing like that," he told MSNBC.
A naval security guard was among those shot and was hit in both legs, U.S. military officials said. Washington city police told WRC, the NBC affiliate in Washington, that one of their officers was also among those shot. It was not clear how many of the others shot were civilian and how many were military.
Tim Hogan, a spokesman for Rep. Steven Horsford of Nevada, posted photos to his Twitter account of people tending to at least one person down on a street corner.
It was not clear how Alexis, identified as the gunman, died. He lived in the Queens borough of New York a decade ago and is still listed on voter rolls there. A Navy spokeswoman said Alexis served from May 2007 through January 2011, and was an aviation electrician's mate — a third-class petty officer — before he was discharged.
The spokeswoman had no details on the discharge.
Texas records show that Alexis was arrested Sept. 4, 2010, for allegedly discharging a firearm at his Ft. Worth home. He told police was cleaning a gun in his apartment when it accidentally went off, according to a statement from the Tarrant County District Attorney's office.
In Fort Worth, Oui Stuhamtewakul, who identified himself as Alexis' best friend and former roommate, described Alexis as a Thai speaker.
Oui, the owner of a Thai restaurant in Fort Worth, said Alexis owned a gun and had a concealed-weapons permit. He said they were last in touch four months ago, when Alexis left for Washington.
Washington police issued lookouts for two people they described as possible suspects — a 50-year-old black man with a rifle, wearing an olive drab military uniform, and a white man with a pistol, wearing a short-sleeved, tan uniform and a beret. They later said that the man in the tan outfit was not a suspect.
Dr. Janis Orlowski, the chief medical officer at MedStar Washington Hospital Center, said that the hospital was treating three gunshot victims — a woman who was hit in the head and hand, a woman who was hit in the shoulder, and a man, a Washington police officer, who was hit in the legs.
She said that the victims came in alert and talking.
"They're talking about gunshots that they heard in rapid succession," she said.
Orlowski described all three as doing relatively well. The police officer was expected to remain in surgery for hours, and was most concerned about talking to his mother. The woman hit in the shoulder was in such good spirits that she was playfully ordering doctors and nurses around. And as for the woman hit in the head, the bullet never touched her skull.
"She has a significant wound, but she will recover without surgery," Orlowski said. "She is a very, very lucky young lady."
George Washington University Hospital said it had one patient.
Obama, speaking at an event marking the fifth anniversary of the financial crisis, turned to the shooting and said: "We are confronting yet another mass shooting, and today it happened on a military installation in our nation's capital."
"It's a shooting that targeted our military and civilian personnel," he said. "These are men and women who were going to work, doing their job, protecting all of us. They're patriots. And they know the dangers of serving abroad, but today they faced the unimaginable violence that they wouldn't have expected here at home."
Obama called Secretary of the Navy Ray Mabus to "express his condolences to the families and colleagues" of the shooting victims and applaud Navy personnel and law enforcement for their response, according to a statement from the White House.
At the direction of House Speaker John Boehner, all House flags will be lowered to half-staff until sundown Friday. Obama has also ordered that flags fly at half-staff at the White House.
The Naval Sea Systems Command builds, buys and maintains ships and submarines and their combat systems. The Navy Yard is along the Anacostia River in Washington, near the Washington Nationals baseball stadium. The Nationals postponed their game Monday night against the Atlanta Braves.  The notation on the Nationals' website read, "Postponed: Tragedy."